2021 Women in Auto Finance honorees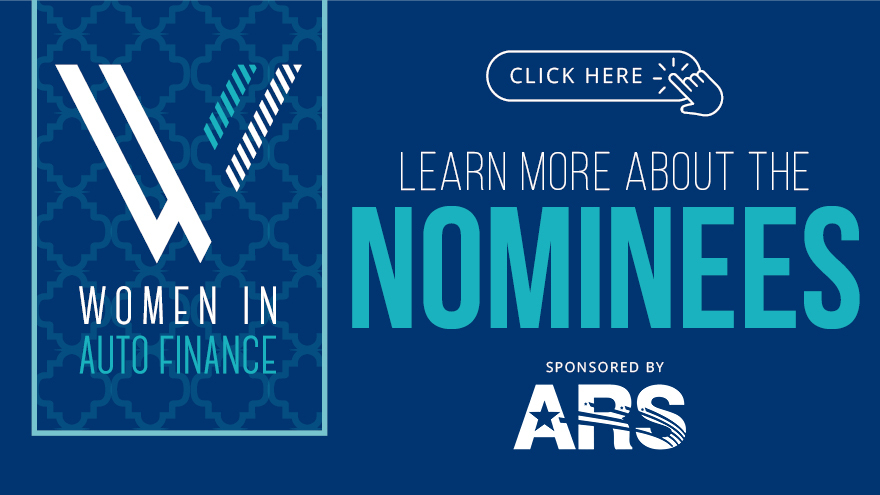 CARY, N.C. -
On Wednesday, Cherokee Media Group proudly announced this year's honorees for Women in Auto Finance, an awards program presented by American Recovery Service (ARS).
The highest total of nominations for the 3-year-old honors initiative arrived this year as women who thrive in specialties such as technology, law, accounting, sales and human resources all are in the spotlight in the current edition of Auto Fin Journal as well as during Used Car Week, which begins Nov. 15 in Las Vegas.
This year's honorees include:
Danielle Fagre Arlowe, Senior Vice President, American Financial Services Association
Tamika Barrera, Senior Vice President, Enterprise Project Management Office, Exeter Finance
Chris Brady, CIO & CCO, Kinetic Advantage
Colletta Bryce, Senior Director, HR Business Partners, NextGear Capital
Amy Castell, General Counsel, United Auto Credit Corp.
Tricia Francis, Senior Vice President, Customer Experience Operations, GM Financial
Amanda George, Chief Product Officer, RouteOne
Vickie Judy, Chief Financial Officer, America's Car-Mart
Janelle Kennedy, Executive Director, Customer Solutions, Ally Financial
Keri Price, Business Manager, Andy Mohr Ford
Sona Shakoory, Risk Operations Manager, CIG Financial
Suzi Straffon, Director, Finance Company Markets, Allied Solutions
Teri Robinson, SVP of Sales and Originations, Consumer Portfolio Services
Each of the honorees described their industry experiences and more in this special section of Auto Fin Journal that's available here.
The women also will be a part of panel discussions and a leadership luncheon at Used Car Week at the Red Rock Resort in Las Vegas. To join them, simply register via this website.