ACH Network volume spikes 11.2% during record-setting Q1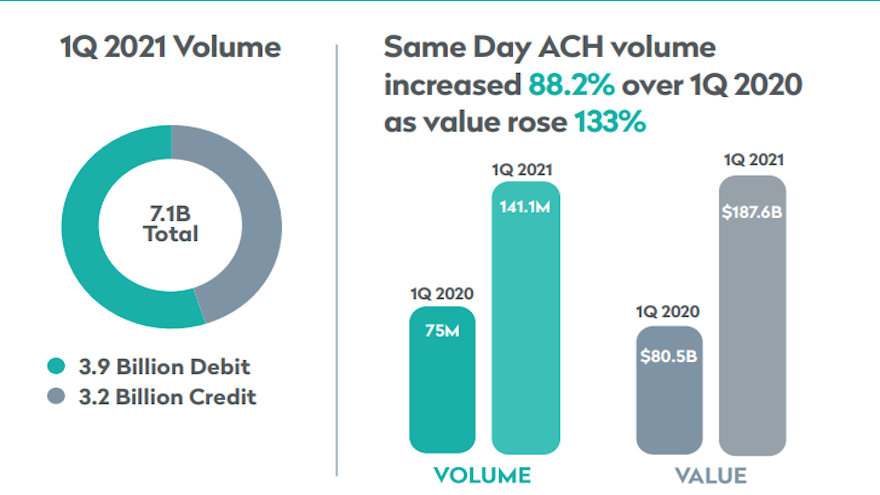 HERNDON, Va. -
It delights auto-finance companies when their customers set up an ACH path for monthly payments.
And providers likely are excited about that stream potentially growing since Nacha, which governs the ACH Network, saw total volume soar during the first quarter of the year, setting two new records in the process.
Nacha said quarterly volume of 7.1 billion payments represented an increase of 11.2% from the same period in 2020. The value of those payments totaled $17.3 trillion, reflecting a nearly 19% increase from a year earlier.
According to a news release, the first new record was set in February when ACH volume averaged more than 118 million payments per day, the ACH Network's highest daily average for a month.
The second was in March when ACH volume hit 2.7 billion payments, the largest monthly volume in ACH Network history. Nacha said this figure included approximately 110 million economic impact payments by direct deposit from the federal government.
"While these have been some of the most challenging times we have seen, the modern ACH Network has again shown itself to be not only resilient but industrial strength," Nacha president and chief executive officer Jane Larimer said in the news release. "The ACH Network is doing its part to get Americans the assistance they need while keeping billions of other payments moving seamlessly."
Nacha highlighted the ongoing migration from checks to ACH continued for the nation's businesses, as business-to-business ACH payments climbed 17.3% to 1.2 billion.
The organization also noted the number of same-day ACH payments passed the milestone of 1 billion since inception, as well as transferring more than $1 trillion in value.
Nacha pointed out same-day ACH volume increased 88% in the first quarter as the number of payments exceeded 141 million. The value of these payments — $187.6 billion — marked a 133% increase above Q1 2020.
Operating hours for same-day ACH were extended on March 19, and the ACH Network now settles payments four times a day.
"Ongoing adoption and surpassing the 1 billion payments mark show that same-day ACH is a significant contributor to meeting the nation's demand for faster payments," Larimer said.
"Our next enhancement, increasing the per-payment limit to $1 million in March 2022, is another step to expand the reach of same-day ACH," she went on to say.