AutoFi adds Wise & Oehlers to executive team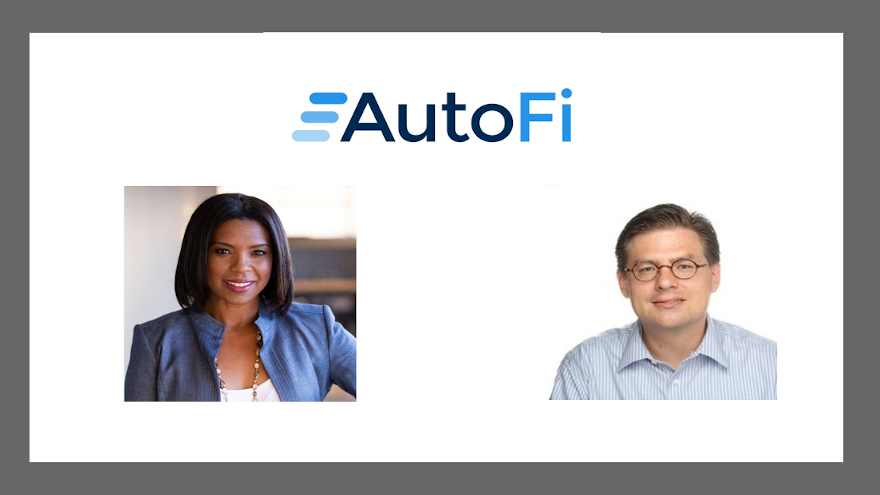 SAN FRANCISCO -
On the same day that this year's listing of Emerging 8 honorees was announced, a previous recipient of the accolade reinforced its executive team.
Digital retailing and financing service provider AutoFi announced the addition of two key hires on Monday as the company is experiencing significant growth.
Kerri Wise, who previously served as an executive at TrueCar, Edmunds and J.D. Power, joined AutoFi as vice president of marketing. And seasoned finance veteran Axel Oehlers now is part of the company as vice president of finance.
"I couldn't be more excited to have Kerri and Axel join the team," AutoFi chief executive officer Kevin Singerman said in a news release. "We're poised for explosive growth this year: At our current rate, hundreds of thousands of customers representing $10 billion in vehicle sales will come through the AutoFi platform at our dealer customers, and our lender network is on track to originate over a billion dollars in vehicle financing through the platform.
"Kerri is one of the most sought-after and respected voices in the industry," Singerman continued. "She will elevate our vision and brand and ensure we continue to be a thought leader for our customers. And Axel brings years of experience in both automotive SaaS and captive finance organizations. I am confident these two seasoned professionals will help position us for long-term success."
Wise is a 22-year veteran in automotive with deep experience leading marketing, training, and analytics geared to dealer and OEM clients. A previous honoree among Women in Retail highlighted by Cherokee Media Group in 2019, she is a frequently sought-after thought leader in the automotive industry and a regular speaker at major industry conferences and events, including Used Car Week.
Recently inducted into San Jose's East Side Union High School District's Hall of Fame, Wise is also the co-founder and president of Women of Color Automotive Network (WOCAN), a non-profit organization that seeks to improve diversity and inclusion in the automotive industry.
"I have spent my entire career working to help the automotive industry harness the power of technology, data, and transparency to serve customers better and close more sales," Wise said. "And that's why I'm delighted to join the team at AutoFi.
"They're helping dealerships across the country, and large enterprise clients use digital finance to dramatically improve customer satisfaction, sales, and profitability so that everyone wins," she continued.
For the past 23 years, Oehlers has been in leading capacities in corporate finance and financial services with a track record of driving business development, process improvement and digital transformation. AutoFi highlighted that Oehlers' wide range of experience spans from leading early-stage to established companies' finance departments as president and chief financial officer, including mergers and acquisitions due diligence in a private equity owner exit.
In the automotive space, Oehlers was the initial CFO at automotiveMastermind.
As president of a captive financial services company for capital goods, Oehlers managed close to $1 billion in total portfolio volume and had full operational responsibility for its securitization program.
Oehlers also received accolades as part of being the Captive Finance Provider of the Year in the financial services division from Leasing Life.
Oehlers has been co-organizer and regularly participates in New York at the CFO Roundtable of German companies in the U.S. and is deputy speaker of The Economic Council New York Section.
"Dealerships that empower their customers to finance their vehicle wherever they like — be it in the showroom floor or on their living room couch — are the dealerships that will win more business and profits," Oehlers said.
"AutoFi is leading the way in helping dealers and consumers to finance cars completely online from start to finish. And I couldn't be more excited about the work we have in front of us," he went on to say.
The company highlighted that more than 2,000 dealers use AutoFi's digital retail solution to fuel more vehicle sales at significantly higher margins by moving showroom, sales and financing operations online.
Through the platform, consumers can quickly secure credit approval and receive multiple competing offers from a network of the largest auto finance companies in North America.
AutoFi can give consumers the flexibility to select the down payment, interest rate and payment terms that work best for them using an easy-to-use digital interface. Customers can receive cash offers for vehicle trade-ins through the platform. And they can choose any protection plans, services, and warranties they might want.
"The end of the process is not a paper printout with estimated payment terms; it's a complete transaction with approved financing," said AutoFi, which added that customers can schedule vehicle pick-ups or home delivery, too.