Dealer Pay broadens solutions for convenience & compliance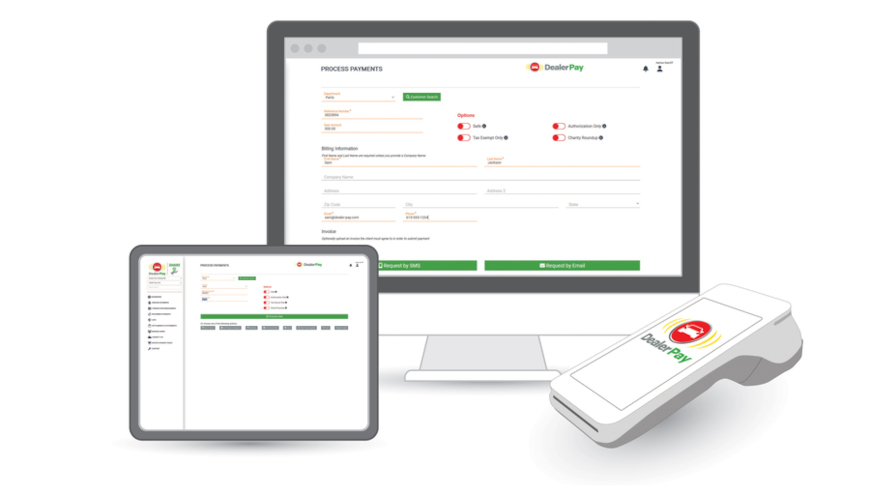 Dealer Pay understands that funds are taken from customers at multiple locations with a single dealership.
For more than two decades, Dealer Pay has provided payment acceptance and point-of-sale (POS) solutions, exclusively to dealerships, and now the company has additional offerings, including:
—Transaction Management Tool that can helps users search, filter, sort, void/refund, receipt, and more, keeping with the highest security standards. Additionally, the detailed reporting and data collection can reduce the time spent managing payments.
—Send Payment Request" enables dealers to collect payments directly from the customer via text (SMS) or email. Not only can customers pay how they choose, but it also reduces receivables faster. Recent consumer research revealed that sixty percent of consumers read business text messages within 5 minutes, and thirty-five percent of customers want to pay by text message.
Leveraging Dealer Pay's SPR with their DMS-integrated partners, dealers have a solution that can send a copy of the invoice (RO, parts ticket, etc.) to the customer to be authorized with a digital signature. Not only does this streamline the process, and reduce receivables, but it also helps prevent costly chargebacks adding another win in the cost reduction column.
The company said leading DMS Dealertrack DMS, AutoMate, DealerBuilt and CDK have validated the importance of Dealer Pay by offering Dealer Pay to their dealership eco-system.
The real-time integration (live push and pull of data) can reduce the steps (and errors) involved in completing and accounting for transactions.
In addition, by linking each transaction to the DMS, Dealer Pay helps the office with their daily batch, creating a simple general ledger post for accounting.
Other features of Dealer Pay's POS include charity round-up, cash receipts, and dashboard analytics. The company said the entire platform is PCI-DSS and FTC Safeguards Rule compliant, providing Advanced Security Options, including IP filtering, multi-factor authentication, and other internal limits/controls to prevent fraud and loss.
"We are thrilled to release these exciting features knowing that dealerships will inherently improve both business operations and customer satisfaction. We will continue to add new features with the input of our dealer advisory board and current clients. Buy Now, Pay Later, Self-Pay Kiosk/EV, Rewards/Loyalty, and 2-way Communications are just some of the features on deck and coming soon," Dealer Pay CEO and president Julie Douglas said in a news release.