MUSA Auto Finance partners with defi SOLUTIONS to service lease portfolio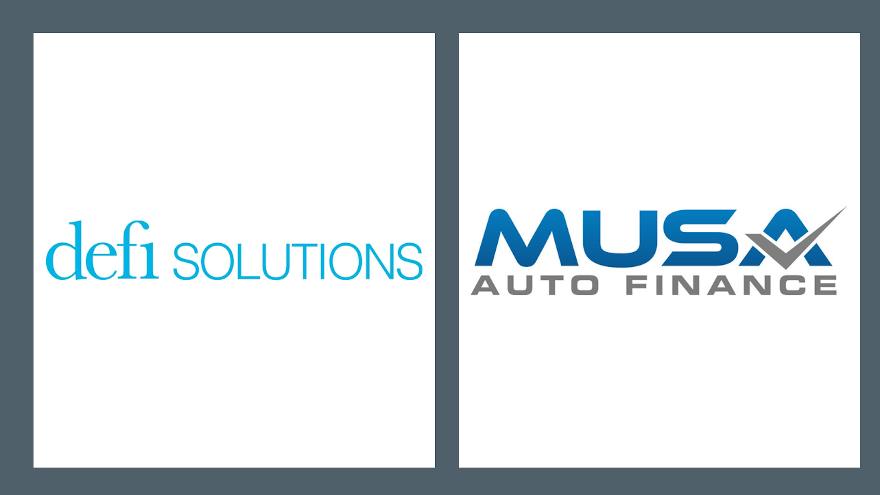 DALLAS -
MUSA Auto Finance now is fueled with technology provided by defi SOLUTIONS.
This week, MUSA Auto Finance announced its partnership with defi SOLUTIONS to handle the day-to-day servicing of the company's entire lease portfolio. MUSA said in a news release that it will now focus all its efforts on growing originations and creating what executives believe to be "a surprisingly easy leasing experience through automation."
Pete Siciliano, who recently joined MUSA Auto Finance as chief operating officer, said customers will noticeably benefit from this partnership.
"Since our operations will become more streamlined by leveraging defi SOLUTIONS' existing, scalable servicing platform, we can pass these savings on to our customers in the form of lower rates," Siciliano said. "We'll also continue to improve the leasing experience by focusing on what MUSA knows best – innovative technology and automation."
Before joining MUSA, Siciliano served as COO for Freedom Truck Finance and held leadership roles with Sierra Auto Finance, Exeter Finance, GE Money and Ford Motor Credit. He brings over 30 years of automobile, commercial truck and mortgage finance experience to MUSA Auto Finance.
Siciliano will oversee the defi SOLUTIONS partnership to ensure the successful implementation of MUSA's servicing strategies in 2021 and beyond.
"By teaming up with defi SOLUTIONS, we will gain tremendous efficiencies in our operations while also providing world-class service to our customers," MUSA Auto Finance chief executive offer Jeff Morgan said. "We're thrilled that defi SOLUTIONS brings in-depth servicing experience across the full credit spectrum since MUSA originates from subprime all the way through super-prime.
"In addition, defi SOLUTIONS has a strong history of servicing leases. This is a rare find and especially important to MUSA. Auto leases are structured differently from standard loans, with unique terminology and nuances," Morgan continued. "We are confident that defi SOLUTIONS will expertly execute MUSA's servicing strategy, delivering another year of strong performance across the portfolio."
Susie Storey, chief sales officer at defi SOLUTIONS, said the MUSA partnership is exciting for defi SOLUTIONS because both companies are driven by technology.
"We've seen MUSA create first-of-its-kind automation for leases," Storey said. "And at defi, we've developed a modern, modular and robust servicing platform to deliver our servicing operations," she said. "I see this collaboration as two tech companies joining forces to deliver a fantastic leasing product to the market."
Morgan added that he looks forward to expanding into new business lines as a result of the efficiency gains.
"Our vision for MUSA is growing larger by the day, and strategic partnerships like this one set us up for hitting those long-term goals even faster," he said.
For more information, visit www.musaautofinance.com.