Nominations open for 2021 Auto Finance Innovators Award: Top 100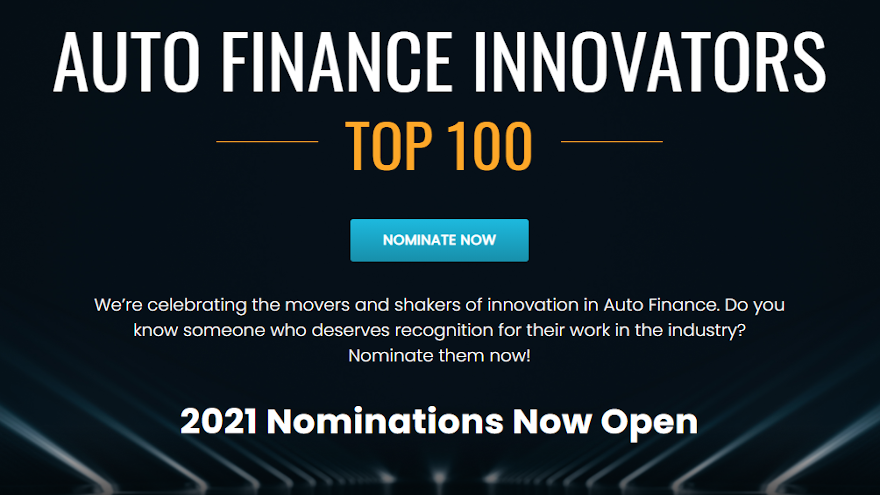 NEW YORK -
Nominations are now open for the 2021 Auto Finance Innovators Award: Top 100, aimed at recognizing auto finance professionals that have made significant technological contributions to their company and the industry.
The awards, sponsored by Lightico and Auto Fin Journal, come on the heels of significant innovation in the auto finance industry during the last 18 months.
"The last year and a half have forced us all to rethink how we do business both from a customer perspective and from a business continuity perspective. Today it is all about digital completion —getting the entire lending experience done digitally and efficiently," said Zviki Ben Ishay, chief executive officer and co-founder of Lightico.
"The hard work, creativity and guts required to innovate during such a complex time are deserving of praise and we're proud to be recognizing those professionals who went above and beyond in leading and continuing to lead their teams forward," Ben Ishay continued.
Here are the details:
• Nominations are open through October 11th and can be submitted online via this website
• Top 100 innovators will be judged based on number of separate nominations by peers
• Top 10 finalists will be judged by an independent panel who will determine winners based on impact, leadership and level of change
• Winners will be announced in November
• Top finalists will also be entered to win a grand prize (to be announced)
• Judges panel will be announced in October
"In a challenging industry like ours, it is important to take a moment and recognize our peers' incredible achievements," said Nick Zulovich, senior editor of Auto Fin Journal. "We're proud to be working together with Lightico to shine the spotlight on the leaders who have taken risks and pushed for innovation to improve our industry."