Tresl launches digital platform for retailing fleet vehicles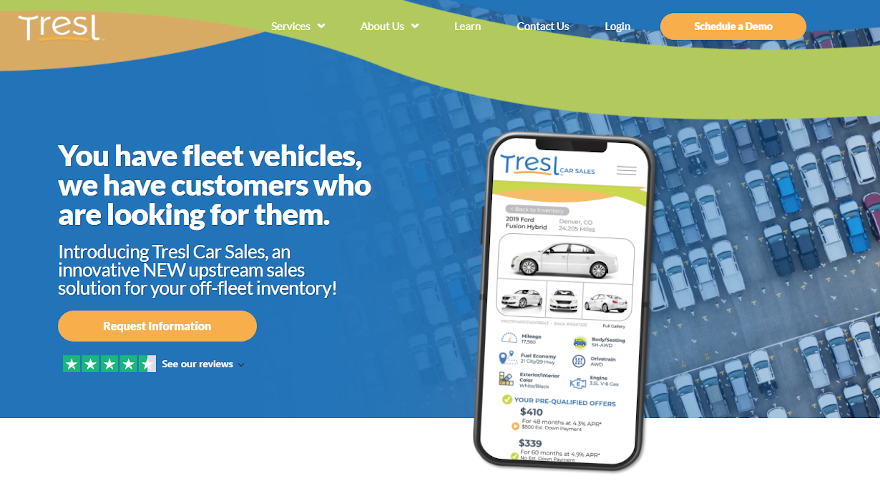 AUSTIN, Texas -
After announcing its new name and branding back in May, Tresl recently launched its newest offering to augment its menu of services that include auto refinancing, lease purchases and off-fleet purchases.
The company described Tresl Car Sales as an innovative new digital web application aimed at "forever changing the way consumers shop and purchase a vehicle."
According to a news release, the official launch included 24 states with additional states to be added every month.
Tresl explained its platform can enable in-market consumers to pre-qualify for financing, view and purchase inventory from fleet operators partnered with Tresl.
The company emphasized its new proprietary platform is built on a robust pre-qual engine. It can enable the customer to easily pre-qualify for auto finance through Tresl and then instantaneously see a variety of off-fleet vehicle offers they qualify to purchase for vehicle within up to a 200-mile radius.
The platform will offer Tresl's customers:
• A realistic preview of vehicle pricing, APR estimates, and payment estimates unique to them (with no credit impact)
• Vehicles offered at thousands below list price
• The ease of the overall Tresl Car Sales shopping and purchasing experience, which includes all aspects of the sale, including titling of vehicles
• A truly digital, end-to-end car buying experience that gives the customer the ability to start and finish the actual vehicle purchase process from anywhere
While Tresl Car Sales will offer vehicles from a variety of vehicle fleet sources, the company said will manage the actual vehicle purchase process. The benefits of the platform for inventory partners include the following:
• See higher resale gains by selling inventory to a large audience of in-market, pre-qualified buyers
• Experience lower days-to-sell with an upstream selling experience optimized for the customer
• An end-to-end transaction experience to simplify the sale for both the customer and the inventory partner
• A highly cost-effective way to market vehicles to millions of in-market customers across the country (no upfront marketing expense)
"Since 2007, Tresl has simplified auto finance transactions," chief executive officer Christine Pierson said. "With this new platform, we are shifting two paradigms.
"First, we are flipping the traditional concept that a customer should find a car before seeking financing," Pierson continued. "On our platform, we will be pre-qualifying customers instantly, so they see the cars they can finance.
"Second, we are challenging the notion that off-fleet inventory can't be sold en masse directly to consumers online. We want to forever change the way people shop for and purchase a car, for the better," she went on to say.
For more information or to inquire about becoming a fleet partner, visit mytresl.com/tresl-car-sales-fleet-inventory-partners.