Womack shows passion to help others in route to being Auto Finance Executive of the Year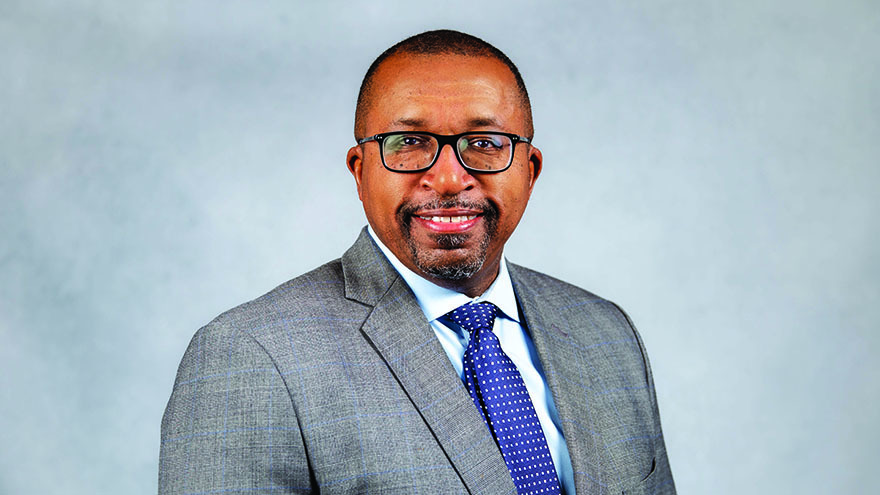 In October 2021, Santander Consumer USA named Marc Womack as head of operations.
A year later, Womack has been named as the Auto Finance Executive of the Year, an honor presented by Black Book. Womack will officially be given the accolade during Used Car Week, which begins on Nov. 14 in San Diego.
Womack leads all of SCUSA's operations functions, including loan operations, lease end and auctions accounts, customer experience, operations employee experience, operations business intelligence and reporting, quality management, collections, and operations business controls and risk management.
SCUSA highlighted Womack has more than 30 years of consumer and commercial banking expertise, with experience across multiple product/service segments including auto, credit card, personal loan, commercial lending and insurance.
Before joining Santander, Womack was head of TD Auto Finance, U.S., responsible for the overall leadership and strategic direction of TD's indirect retail and commercial auto finance businesses. Womack also served TD as chief operating officer where he led the commercial lending, retail operations and field distribution for TD's U.S. auto organization.
Additionally, Womack was head of U.S. product for TD Auto Finance and chief of staff to TD Bank.
Prior to joining TD, Womack held several senior executive roles at GE Capital, JPMorgan Chase, Capital One, Hyundai Capital America and HSBC.
"With so many talented leaders in the auto finance space, this is never an easy choice for Black Book," Black Book vice president of sales Susan Moritz said. "We were really impressed with Marc's breadth of experience in many verticals within the auto finance segment. This combined with his dedication to servant leadership has earned him the highest level of respect within the industry.
"For these and many other reasons, we are proud to honor Marc Womack with the Auto Finance Executive of the Year Award," Moritz added.
Womack is joining the list of professionals who have been named the Auto Finance Executive of the Year, presented by Black Book. Past honorees include:
—Kyle Birch, GM Financial
—Tanya Sanders, Wells Fargo Auto
—Bill Jones, Regional Acceptance Corp. & BB&T Dealer Retail Services
—Andrew Stuart, TD Auto Finance
—Tommy Moore Jr., First Investors Financial Services
—Ozzie Ramos, National Auto Lenders
—Dan Ulatowski, Credit Acceptance
—Bill Jensen, Chase Auto Finance
—Ian Anderson, Westlake Financial Services
Auto Fin Journal connected with Womack to gather his perspectives on being in the auto finance business and receiving this accolade. His career has been fueled by a passion to help others.
Auto Fin Journal: What do you recollect about your first day in the auto finance industry and what have been the most important lessons since then, shaping the professional executive you are now?
Marc Womack: My first job in the industry was with GE Capital Auto Leasing. That's when GE actually had an auto lending and leasing business back in 1992. At the time, it was my first job out of college. I was in a finance training program. That business was just going gangbusters at the time. The things that really hit me were just how much impact that business had on the lives of people. What I mean by that is mobility is one of the most foundational things that drives people to be able do what they do. I know it's simplistic and a little cheesy. But if I can't get to my job, I can't make my living. Or if I can't go and have a means to easily look for work, I can't take care of my family. I can't take care of my responsibilities. A lot of what I saw, even from the finance function, was the impact that transaction had on this whole ecosystem. As I got older and started learning, it was about how broad the shadow of the automotive landscape to our country and the people in it. It was awe-inspiring to begin.
AFJ: Who were your mentors, supervisors or teammates who impacted you most during your career and how did they do so?
MW: GE was one of those places where you jumped from job to job about every 18 months if you were considered a high-potential person. I jumped around all over the place, but I always seemed to find my way back to the auto finance business.
At the time, the leader of that business was Sandra Derickson and she was the most senior woman in all of GE at that time. For whatever reason, Sandy took a liking to me. She was incredibly generous with her time. One of the things that I think a lot about is the talks we would have. It was a periodic 30 minutes that we would get together on a quarterly basis; sometimes a little shorter, sometimes a little longer. She was one of those people who knew I needed somebody to tell me like it was. Sometimes, it was, "You need to continue to do this." And in some cases, it was, "You need to stop doing this." It was a lot of that really foundational leadership blocking and tackling that thankfully she saw something in me.
With her as a woman and as me being diverse person myself, it's really made me think about paying it forward and giving my time back to others that can learn from some of my bruised knees and elbows. Also, the first manager of the internship I had was Michael Dinkins. I still stay in touch with Michael to this day. He and I still now 30 years later in contact. Those are the folks who kept me in the fairway so to speak and were quick to snatch me by the collar if I ever got out too far.
AFJ: Conversely, what opportunities have you had to offer guidance to younger associates and what have you shared?
MW: It's something that I intentionally do. Whether it's group mentoring or individually, I'm often talking with 10 to 15 people on any kind of periodic basis. It rotates. They're leaders at all levels. I sometimes get asked to speak to intern classes.
I think what ultimately happens is that there will be one or two of them that understand that people put their pants on one leg at a time every day. Just because you got a fancy title doesn't mean that you're not a human being. They'll ask for 15 minutes. It might not happen for three weeks, but I'll definitely find 15 minutes to talk. I think that is my responsibility. Just like Sandy and Mike taking the time with me, it's my responsibility to make myself available.
I think the biggest lesson I try to impart on people is that failure is not fatal. Some of the best learnings I've ever had in my career were based on things that I should or shouldn't have done. It is learning through pain. There's that old saying that all boats rise with the tide. The learning that have come to me in terms of leadership acumen have happened from mistakes. That's what I try to tell them.
Another thing people will ask me is what is that I look for in people that I want working around me and on my team. It's not that I want analytics people or I want sales people or I want operations people. I want people who can learn, and I want people who know how to solve problems. Because if you can do those two things, you will understand that solutions and coming up with great ideas is not a function 100% of intelligence. It's a function of understanding how to get from here to there. Sometimes, the next best thing that you have to do is not go in a room and think for six hours. It's to go ask someone who is smarter than you a 30-second question. Knowing the difference between those two and what's necessary a lot of times is the determining factor between successful and not being successful. A lot of well-intentioned folks want to go and solve it because they want to be the smartest guy. That's my leadership secret. I surround myself with some people who are smarter than me.
AFJ: What do you enjoy most about auto financing? What stirs your passion for this particular business?
MW: I've spent a lot of time in credit cards and some commercial banking. But I always seem to find my way back to auto. I think it's because the success is really dictated on how well you treat other people. I think that's a distinct nuance because even though auto lending is a consumer lending product and that is a lot of times driven by who's got the best rate and who's got the best thing. There's a lot of what some people characterize the relationship part of the auto business. But I really think that it's about how well do you take care of other people's customers? How well do you take care of other people's problems? How are you considering all of those things as you do what you do? To me, that's the last key driver of incremental success. It's easy to get lots of business if you're the cheapest rate. I can lower prices and get more business. Auto lending is largely commodity priced. But I think some of the most nuanced successes in the business have been around the margins of where people have come up with unique things that help take care of customers in a better way. That excites me and it keeps me fired up to try to continue to find those ways to demonstrate that I take care of customers better than others. The nature of business today is still largely supported by dealers. But as that continues to evolve and change over time, the people that want to be comfortable with those they work with are going to think about taking care of their customers in the same way they do.
AFJ: What's your reaction to be named this year's Auto Finance Executive of the Year?
MW: Any time you're recognized by somebody who has looked at what you've done over the body of your career, it's humbling. It makes you feel like you've made a couple of good decisions over the course of that period of time. The words that come to mind is I'm honored and humbled by the recognition. It blows me away that somebody looking at me from the outside thought enough to recognize me in this way. It's very humbling. I'm truly honored by the recognition.