AutoTrader.com Unveils Details Of BHPH Center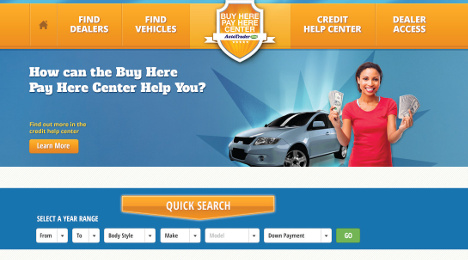 ATLANTA -
In an exclusive interview with
BHPH Report
, Smith shared details about the Auto- Trader.com Buy-Here, Pay-Here Center, which he called "basically a website within a website." The center will direct shoppers who likely have deep subprime credit histories and need to secure contracts through in-house financing toward BHPH operators who specialize in working with customers who likely have been denied by other lending institutions.
AutoTrader.com is rolling out a soft launch of the center during the National Conference hosted by the National Alliance of Buy-Here, Pay- Here Dealers.
"It's a key innovation for us when you think about being able to segment the audience and segment shoppers," Smith said. "Not all shoppers are created equal. They all have different needs and priorities. Bringing buyers and sellers together, a key part of that is being able to innovate within the different segments that are out there. This is just the beginning of that for us."
How It Works
Many BHPH operators might already be familiar with how AutoTrader.com allows dealers to post inventory on its website. Trough the Buy-Here, Pay-Here Center, operators can take that inventory listing a step further and include elements such as what the required down payment is, or how much biweekly payments would be.
Brett Kelly, director of independent dealer business at Auto- Trader.com, described more details from both the shopper and dealer perspective.
"We have some great things for both consumers and dealers. For consumers they're on site and they're able to search by vehicle type, by down payment and biweekly or monthly payment. They're able to view dealers in their local area. It will automatically pull up the dealers closest to them," Kelly said.
"On the dealer side, we know buy-here, pay-here dealers generally like to do business locally. The dealers are going to be able to designate how far out a consumer is able to see them so they can limit the consumer participation," he continued. "We also have a pretty good collection of marketing and merchandising tools for the dealers. Every participating dealer will have their own microsite that they can list their inventory. They can include photos. They can include video.
"We'll have display ads on the site. In the back end, the dealer tool in our ad manager, dealers actually will be able to create their own display that will automatically display on the site," Kelly added.
"There's a good collection of tools for both consumers and dealers," he went on to say.
Kelly emphasized the center can benefit operator of any size.
"A lot of the smaller buy-here, pay-here dealers don't have websites. If they want to use this Buy-Here, Pay-Here Center microsite as their own website, they can do that just by buying a domain and redirecting it. Then it can be branded with their own experience, he said"
Adding Dealers to the Center
Just like operators want to populate their lot with inventory, AutoTrader.com is out to fill this new center with participating dealers so site officials have enough in the pipeline before turning the solution on for shoppers to use.
"We're only allowing dealers that specialize in in-house financing and buy-here, pay-here to participate," said Smith, mentioning that AutoTrader.com will initially promote the center with house ads on its own website as well as links located on other pages throughout its platform.
"As we begin to have more dealer participation and as we work it into the core AutoTrader.com website, it will become more of a main channel on the homepage," he continued.
Kelly plans to show the development site to dealers who attend NABD's show in Las Vegas. Soon, AutoTrader's field staff will be highlighting the center throughout sales associates' territories.
"From there, it's really driven by dealer participation because in order to promote to consumers, we've got to have enough dealers," Smith said. "Honestly, the number of dealers we need is really going to be determined differently by geography. These are local shoppers shopping in a local market. They're going to want to look locally, and these dealers are going to want to target locally.
"Once we have enough dealer participation, we're hoping within 60 days of the soft launch to be able to start promoting it consumers," he continued. "From there it's really an ongoing evolution. That first 12 months is really critical from a feedback and innovation standpoint. The next year once we get shoppers and dealers using the site, it will even get better because we're going to listen to their feedback."
Kelly didn't hesitate when asked to gauge how many dealers can be associated with the new AutoTrader.com Buy-Here, Pay-Here Center.
"We want the participation of every single buy-here, pay-here dealer in America," he said. " The key importance for us is we want to create that marketplace, essentially that directory of every buy-here, pay-here dealer in the country. That way the 10 percent of consumers who need in-house financing can come to our site and feel confident that they can find a dealer."
High Hopes for Center
Smith acknowledged that creating a solution specifically for the BHPH market has been discussed at AutoTrader.com for close to seven years.
"We've also done research along the way to make sure we understood what the opportunity was, both with dealers and consumers. Because again it's about bringing them together. We've been in development for about a year to be able to come to the market and say we have something to show you," he said.
Kelly also highlighted how much AutoTrader.com is eager to bring this solution to BHPH operators.
"From our sales force, the field staff is very excited. Their attitude has almost been, 'It's about time.' The field has been waiting for this for a long time," Kelly said. "Our dealer solutions center, which is our Dallas support center that is specifically independent dealers, also is very excited about this. They work with many buy-here, pay-here stores. They know that this is a solution that's really long overdue in the market.
" The dealers we've spoken with are also very excited. If you think about it today, a dealer who offers buy-here, pay-here, it's very difficult for them to find a laser-beam focused way to target consumers who need in-house financing. There's a lot of excitement across the board," he went on say.