Car-Mart Aiming To Get Customers 'Over The Finish Line'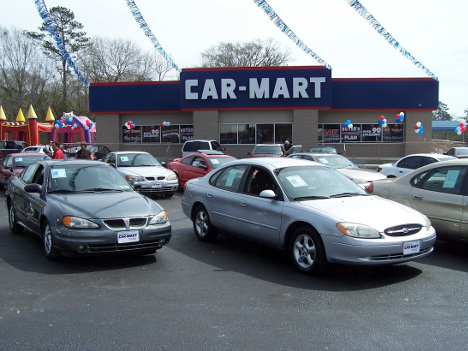 BENTONVILLE, Ark. -
Like many buy here, pay-here dealers, BHPH chain America's Car-Mart has seen some of its better customers being wooed away by the possibility of getting a newer, lower-mileage vehicle at another dealership because finance companies are willing to take on the added risk of traditional deep subprime customers.
Car-Mart president and chief executive officer Hank Henderson not only doesn't care for the trend because it's influencing the company's performance, but he also believes it's not necessarily good for this consumer group, either.
"Despite the pressure we are feeling in the current competitive environment, we are continuing to see some good growth. We remain committed to growing our business the right way with the realization that so long as the competition does not share our same focus on customer success, our results could continue to be affected somewhat," Henderson said.
"There are a lot of good people who are currently signing up on financial arrangements with our competitors for what we believe are impractical terms that are not in Their long-term best interest," he continued. "We will continue to do our very best to set our customers up to succeed so that we will be in a position to earn their repeat business in the future. Anything short of our customers successfully completing the terms of their individual contracts is not acceptable to us and not in line with how we believe this business should operate.
"Unfortunately, the current environment is contributing to higher levels of charge-offs, and we will continue to work hard to reverse these trends," Henderson went on to say.
That environment has even escalated to the point where Henderson indicated that one of Car-Mart's older dealerships had to go to a competitor to retrieve the vehicle. Henderson didn't divulge the specific location, but did say it happened five times in a single month recently.
"Obviously that is wrong," Henderson said.
Car-Mart executives couldn't forecast how long the current competitive environment might last, but they're preparing as if it's going to be in place for the foreseeable future.
"We are not experts on the (special finance company) business," chief financial officer Jeff Williams said. "We know that even With their presence, we still have very a viable business and a good number of repeat customers, and so we will continue to keep our head down and do what we do best and let the chips fall where they may with those guys.
"It all comes back to customer success," he continued. "We are going to do whatever it takes to get most of our customers across the finish line successfully completing their contract, if other folks don't share that viewpoint and that's what we are going to have to deal with for a while."
With that mindset in place, Williams explained one strategic move Car-Mart made as its fiscal Q3 closed on Jan. 31, a choice the company has made only twice in the past eight years.
"Because of the stubbornly high net charge-of levels, and our expectation that tough conditions will continue at least over the short-term to mid-term, it was necessary for us to increase our allowance for credit losses to 23.5 percent from 21.5 percent," Williams said. "The last time we adjusted our allowance was in April 2012 when we reduced the percentage to 21.5 percent from 22. 0 percent.
"Prior to April 2012 the last time an Adjustment was made to the allowance was in October 2006 when it was increased to 22 percent from 19.2 percent," he continued. "This non-cash charge will not in any way affect our efforts to help our customers succeed, and our cash on cash returns continue to be very attractive even with higher charge of levels. We are focused on maximizing efficiencies on the operating expense side of the business and are committed to always being the lowest cost operator."
Looking Ahead to Tax Season
Reportedly, tax filers began to see their refunds arrive during the first week of February. With potential buyers having some extra cash, Henderson is upbeat about what this year's tax season could bring for Car-Mart.
"Well, I think we are on pace to have a little bit better year than last," Henderson said. "And we have talked about the last few years; I think each year we are getting little better at it.
"Our process gets smoother, and certainly over time some customers have done it before," he continued. "They have had a good experience so they come back. I think year to year, the actual numbers that we will do ourselves will improve over last year."
Williams pointed out how Car-Mart plans to work with existing customers, too, not just using tax season to generate new sales.
"We really try to look out for these Customers too during tax time, and we realize they have other commitments, other obligations," Williams said. "And so we try to make sure that any special payments that we have out there are manageable and can allow them to get some other things that squared up if they need to."
Improving Margins and Wholesale Environment
Williams highlighted that Car-Mart's gross profit margin percentage came in at 42. 7 percent of sales in Q3, up slightly from last year's reading of 42.6 percent and compared to 41.7 percent in the previous quarter.
"The sequential improvement is related to better wholesale results and lower repair expenses of set by higher claims under our payment protection plan product," Williams said. "We will continue to focus on minimizing repair costs. The competitive environment does put some pressure on discretionary repair expenses. Our goal is to balance affordability for our customers with appropriate gross margin percentages to enhance customer success.
"We expect gross margin percentages to remain generally in the current range over the near term," he continued.
And the rising volume of off -lease vehicles hitting the auction lanes for franchised and independent dealers to use as certified pre-owned inventory is allowing Car-Mart to find more units that are a better fit for the BHPH sector.
"As Jeff mentioned earlier, we have been able to bring down our average purchase price a bit, and some of that is a conscious effort to offer some cheaper cars on some of our stores," Henderson said.
"But given the typical seasonality we have seen in years past as prices tend to go up more this time of the year, we haven't seen as much of that," he continued. "So actually, I think we are really strong solid on the inventory side."