DriveTime Uses Leasing to Boost Customer Base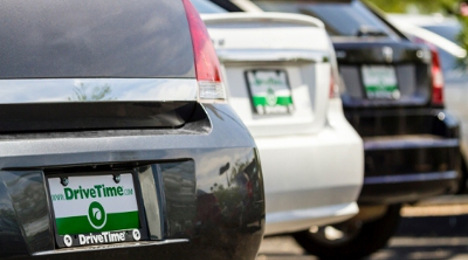 PHOENIX -
DriveTime Automotive Group is looking to fill basic transportation needs while capitalizing on the rising popularity of vehicle leasing. It can be a tricky proposition since the average person with a non-prime credit score won't typically qualify for new-vehicle lease promotions, and these Americans can struggle to cover the operational and contract costs.
In response, the company introduced its Cancel Anytime Lease program across all 126 dealerships nationwide. DriveTime's used-vehicle lease option can give consumers access to a vehicle with down payment under $1,000 and the ability to return the vehicle at any time and cancel the 30-monThlease agreement. The Cancel Anytime Lease can allow customers to return their leased vehicle to the dealership and end the contract at any time, without negatively affecting their credit score or incurring financial penalties.
And it's paying off as DriveTime has seen a 25-percent incremental growth its business since the introduction of the program.
Over the past 18 months, DriveTime tested the program to find out exactly what consumers' pain points are when it comes to vehicle ownership. With the Cancel Anytime Lease, consumers can drive up to 24,000 miles per year and are only required to maintain the state's minimum liability coverage.
Lessees also receive a complimentary maintenance package, which includes oil changes and a limited warranty lasting the life of the lease covering all critical vehicle components — allowing them to drive worry free. Plus, as customers make their payments, they can earn cash rewards that can go toward another lease or purchase of a DriveTime vehicle.
"We understand the financial challenges that face American consumers today, and are dedicated to providing transportation to anyone, no matter your credit score," DriveTime vice president Chris Braddock said.
"By giving greater flexibility with our lease program, we are able to better serve our customers, providing them access to a vehicle on their own terms, so that they can experience many of the same benefits of vehicle ownership, without the drawbacks," Braddock continued.
During a conversation with BHPH Report, Braddock indicated some of Drive- Time's largest markets such as Dallas, Houston and Tampa, Fla., have gained the most traction with the Cancel Anytime Lease program. However, one of DriveTime's newest locations in St. Louis sits in the middle of what Braddock described as the most intriguing area where the Cancel Anytime Lease program can flourish.
"Our dealerships in the Midwest have seen tremendous growth with our lease program," Braddock said. "It could be due to the lack of mass transit avenues in those cities. You just don't have as many convenient transportation options in the Midwest. The customers have really responded positively there, and we're thrilled that we can provide a new, affordable and reliable transportation option for them."
Another advantage DriveTime found with its Cancel Anytime Lease program is the company doesn't have to carve out a special slice of vehicle inventory to drive volume.
"We've analyzed which vehicles to buy and which ones work best for our customers based off of maintenance costs and reliability factors," Braddock said. "Our lease vehicles are similar to our vehicles that are available to be financed. If you looked on our lots at our inventory, you probably wouldn't know the difference between a lease car and a sale car, and that's the point — the same options should be available to everyone where possible, regardless if they are leasing or purchasing"
DriveTime is gaining momentum with its Cancel Anytime Lease program in the wake of "record year of sales," according to Braddock.
"Our lease program has afforded us the opportunity to give our customers a second option to drive away in a vehicle — often with a lower down payment than what they would need to purchase a vehicle and with greater flexibility. "If a Cancel Anytime Lease customer needs to return their vehicle for any reason — whether that is financial hardship or the need for a bigger car for a growing family — we want to make that process easy for them," continued Braddock.
Beyond the burgeoning lease program, Braddock also touched on with BHPH Report about how DriveTime has rebounded from a significant regulator action.
Back in November, the Consumer Financial Protection Bureau made its first enforcement action in the buy-here, pay-here space and handed out an $8 million penalty against DriveTime. CFPB officials said that DriveTime allegedly harmed consumers by making harassing debt collection calls and providing inaccurate credit information to credit reporting agencies.
The bureau said DriveTime had to pay $8 million as a civil money penalty, end its unfair debt collection tactics, fix its credit reporting practices and arrange for harmed consumers to obtain free credit reports.
"We saw the settlement as just another way to improve our customer focus and better understand what our customers expects of DriveTime," Braddock said. "The CFPB provided us wiThan outside perspective of our business. We took their feedback and we've improved those aspects and we've moved forward. It's who we are. We're an agile company. It's a continuous process to work through our customers' concerns and ensure they have the best possible experience with DriveTime, we're always improving."
With so many positive attributes about the company moving in a positive direction, Braddock closed his conversation with BHPH Report by sharing what DriveTime's most significant task is now.
"Truly, the challenge that remains is continuing to cultivate an innovative culture, where every person you bring into the organization has the real possibility to be a leader within our company. Finding the right mix of future leaders to spearhead the growth of this company while remaining on the forefront of technology is a daily discussion," Braddock said. "That's our biggest challenge."