Hall Of Fame Inductee Codding Describes Impact Of BHPH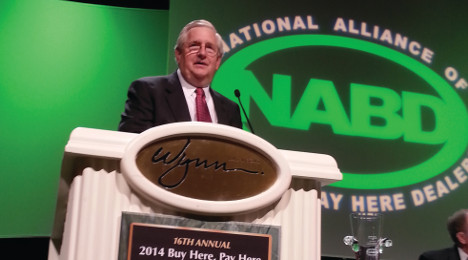 LAS VEGAS -
The newest member of the Buy-Here, Pay-Here Hall of Fame explained the impact BHPH operators have by sharing the story about a vehicle delivery that wasn't even a special finance deal. In fact, the delivery was for a $400,000 vehicle — the most expensive unit ever sold at the franchised dealership new inductee Julian Codding managed at the time.
Codding, an Oklahoma native who said he was raised more than 20 miles away from the closest payphone, was managing a franchised dealership in the Bob Moore Auto Group when a buyer surfaced for this expensive model. Since this vehicle transaction was well above six figures, Codding told attendees during his Hall of Fame induction at the National Alliance of Buy-Here, Pay-Here Dealers National Convention that he definitely wanted to meet the individual who made the purchase and thank him for his business.
Turns out, Codding recollected that the buyer wasn't even on the lot. He was an investor from California who sent his legal representation and a cohort of specialized security and transporters to take the vehicle to a special location in the Golden State more than 1,000 miles away. That vehicle would never be driven, rather just kept in a secure facility.
Codding then tied that story back to the BHPH business, something he's been a part of for more than 30 years.
"I thought about it for a minute and realized that's the greatest example of somebody not needing an automobile," Codding said. "For us (as BHPH dealers), we've done a whole lot of good.
"This is a world of human beings. Not everyone is rich. Not everyone is in your neighborhood or mine, or gotten good grades, or gotten lucky and married a nice girl," he continued.
"We've got a lot of customers, millions and millions of people who we are helping with the quality of their life," Codding went on to say. "I never sold a new Cadillac, Porsche or Maserati to anyone who really needed it. But our customers, millions of them, we have helped them in their lives. We've given them a way to get to work to make a paycheck, to have dignity, to take their kids to the doctor, to take their family to church."
Codding continued his testimony by pointing out that just because the financial situations might be different doesn't mean that BHPH operators aren't working with the same kinds of customers that high-end luxury franchised dealers might.
"There's a few people out there who are not very nice, and they've ripped us of and things like that," Codding said. "But as my grandmother used to say, 'The worst beer joint and the richest country club each have the same element.' I'd like to remind you that we could go to Wall Street and find the same classification of people."
Always a Teacher
NABD's Ingram Walters remembered a statement Codding made as an afterthought during a 20 group meeting more than 15 years ago. When he introduced the new Hall of Famer, Walters shared the statement Codding made that's resonated ever since.
"He said stupidity can cost your company as much as dishonesty." Walter said. "Over the last 20 years, I now know exactly what he's talking about because it's happened in my operation, and it's happened in everyone else's operation.
"When he spoke in the 20 group, people listened. The reason they listened is because they had all of his numbers in front of him. And his numbers in the buy-here, pay-here business are incredible," Walters continued.
"He's always trying to teach, always trying to counsel the other dealers," Walters went on to say. "There's just something simple, noble and modest about a leader like this man, who sees himself as a teacher and not as a boss. In his business, he didn't just focus on the goods he could gather. He focused on the good he could do within his people and within his community. In the buy-here, pay-here world, I consider him to be out in front of us on the road, and we all benefit from his experience."
Strategy Recommendations
Codding suggested that BHPH operators of all sizes and backgrounds become involved in 20 groups.
"I don't care if the group has the biggest guy in the country or the smallest guy; you can learn something from both of them," he said.
And the new Hall of Famer recommended that operators switch groups every two to three years so operators can learn new strategies from different markets and viewpoints.
Codding also emphasized that the 20 group moderator is the most important part of the whole process, stressing that individual needs to be someone with not only good communication skills, but also an operator who has been in the BHPH trenches.
"You don't want to get on a plane with a guy who's never flown before, just gotten straight A's in the correspondence class. You want to get on the plane with the guy who has been there, done that," Codding said.
"You need a moderator who has a good personality and people skills to keep the group going right, the guy who will catch you after the meeting and say, 'I think you're doing the stupidest thing I've ever seen, but I didn't want to say it in front of everyone,'" Codding went on to say. "You need someone working harder than you to understand the numbers."