High School Students Benefit from BHPH Store's Blimp Donation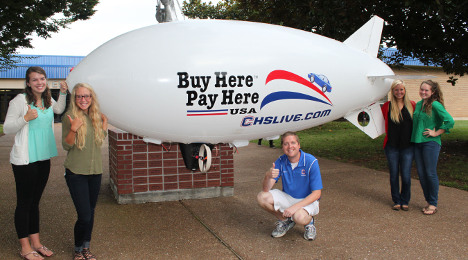 CLEVELAND, Tenn -
Part of the brand marketing used by Buy Here Pay Here USA includes the tagline, "You can find us under the blimp." The BHPH operation that already has two lots with a third one to open up later this year flies white blimps with its store logo about 100 to 150 feet above inventory.
And with football season on the horizon, Buy Here Pay Here USA's brand will be back in the sky above Cleveland High School football games. Last year, the operation donated a blimp to the school that's used by students to provide another camera angle for their online broadcasts of the school's football contests.
"It's pretty intimidating for the opposing team to see a blimp flying over the stadium," Buy Here Pay Here USA partner and president Chris Pendergrass said. "It's pretty neat to be able to see it in action. It's really great for our home school."
The one that flies above the football action is even bigger than the one used at the operation's lots in Cleveland and Dayton. The blimp is about 14 feet long, is radio controlled and can reach 200 feet to give students broadcast-quality video for their production.
"This is a tremendous piece of technology and a once-in-a-lifetime opportunity for the Cleveland High School broadcasting program," said Jon Souders, the school's media instructor and director of the broadcasting program. "The blimp enables our students to continue using the best equipment available and to provide a high-quality, network- style production for our worldwide audience. This is unheard of at the high school level."
According to Souders, the students aim to rival programmers such as ESPN with their broadcasts. "They're not going to settle for anything but the best," he added. "The donations from Buy Here Pay Here USA have allowed us to continue to take things to the next level."
Pendergrass added that he will continue to use blimps above his BHPH stores since they've become such an important part of their branding campaign.
"They come with their challenges, but they're a lot of fun," he said.