Houston Store Aims To Show How Honest BHPH Dealers Operate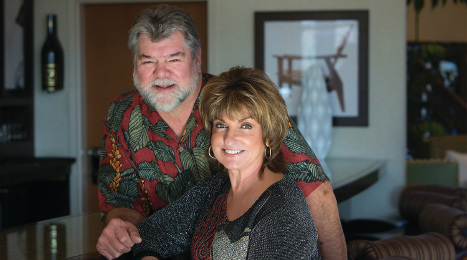 HOUSTON -
A buyer who sustained a bad experience during a vehicle purchase might share the unpleasant details with family and friends. Or perhaps in today's Internet age, the consumer could go on social media to describe the experiences through a myriad of platforms.
Craig Durrett took a different approach. He became an independent dealer who completes a significant portion of the store's sales with in-house financing.
The journey started back nearly four decades ago when Durrett and his wife, Paula, graduated from Texas Tech University in Lubbuck, Texas. Paula was about to enter the teaching profession while Craig wasn't sure what kind of job he might land with his business degree. The vehicle they shared during their collegiate days needed to be replaced, so they set out to find a quality used vehicle.
"When we got out of college we just couldn't seem to get anyone to tell us the truth about buying a used car," Craig Durrett said. "We both got aggravated.
"It seems like we went to four different places," he continued. "We needed a car. We had an old Volkswagen that we drove for years. We just got lied to about little things … about how much the car costs … about what equipment was on it. We just couldn't get a straight answer. We just felt like you don't have to be a cheater or liar to be the used-car business."
The Durretts finally made that purchase back in 1977, and Craig began his career in the auto industry at a Volkswagen and Volvo dealership even though, he said, "I had no intention of becoming a car dealer."
Within five years, Craig Durrett became general sales manager of Ron Craft Chevrolet in Baytown, Texas, learning the business from the dealer principal, who shared valuable knowledge and experience.
Craig Durrett left the Chevy store and started Gulf Coast Wholesale with his wife and another partner. Then in November 1986, the couple opened Durrett Motor Co. In Houston, a dealership with about 150 vehicles in inventory where 50 percent of the business is buy-here, pay-here.
"It's been a journey," Durrett said.
Dealership Details
Craig Durrett scours auctions to find the inventory. "My biggest challenge is trying to find a newer car that I can finance in house. That's a major thing," he said.
Another inventory acquisition strategy Durrett Motor uses is its weekly "Show- N-Sell Event." Each Saturday between 9 a.m. and noon, the dealership invites customers from all over Houston to become the seller and turn Durrett Motors into the buyer. It's been a regimen the store has used for more than 20 years, but it's been in the last couple of years that Durrett has utilized extra promotion to generate traffic.
"Because of how prices are, we can give the average guy what he really wants for that car because they're cheaper in some cases than what is at the auction," Durrett said. "It's easier when you can buy them off the street because you don't have auction fees and transportation costs."
Meanwhile, Paula Durrett oversees the business office and keeps tabs on the dealership 24 full-time employees.
Durrett Motor also is a Certified Master Dealer, a distinction given by the National Independent Automobile Dealers Association.
"Doing business on a handshake. That's part of what our motto is," Durrett said.
"We want to sell good cars, but the main thing is we want to change the perception of the used-car dealer of what the general public thinks," he continued.
The dealership's motto and 10 reasons why to buy from Durrett Motors reflect the couple's early vehicle-buying experiences.
"You can go into dealerships and sometimes you know that a couple of them just aren't right. You can feel it when you talk to them," Durrett said.
"In my opinion, you've got to tell the truth no matter what. If it's got bad tires, it's got bad tires. You can't say, 'Oh we'll do this or we'll do that.' Not being fair and honest with the consumer, we just don't tolerate it at our place. It's just one of those things where you might miss a sale every now and then but you've got to show the people the damage report if it's got a damage report. Tell them as much as you know about it," he continued.
"That's gotten us a lot of sales over the years, being honest. People might not like what you're going to say, but at least they know the truth," Durrett went on to say. "My salesmen know that if they get caught lying to a customer they don't work here anymore. It's pretty obvious. Generally, people want to do good things. It's usually pretty simple. They know I'm straight up about that."
Future Outlook
The buy-here, pay-here segment of Durrett Motor's business is the part the owners might enjoy the most. But like so many operators, it has presented its challenges during the past 28 years.
"We like buy-here, pay-here cars because we've helped a lot of people get back on the feet from whatever reason, back luck or whatever. Some of our same customers used to be buy-here, pay-here now have bought eight or 10 cars from us," Durrett said.
But even some of the most loyal customers have submitted to the temptation of franchised dealers who have connections with special finance companies might be offering.
"A lot of customers are spoiled because of what the new-car stores are doing," Durrett said. "If they've gone to the Dodge store down the street and then they look at my car that's 7 years old, and they go back to the Dodge store for the one that's only a year old. It's been tough to keep fresh inventory that's a late model for the buy-here, pay-here part."
Nonetheless, Durrett Motor has adapted. The store offers vehicles with warranties as well as units certified by Auto Exam Automotive Services.
"You have to be flexible. You have to be on the cutting edge," Durrett said. "Now we're selling certified cars. That just used to be at the franchised dealers, but now we're doing it, too. These cars are certified and have warranties and everything. You wouldn't have even talked about that three years ago as an independent used-car dealer.
"Just like 20 years, I never would have said I was going to become a certified master dealer and get into that. Now, I'm really glad I did. It teaches you a lot and gives you a lot of insight," he continued.
Durrett Motor is upbeat about its future prospects and not just in the BHPH division. The dealership is located in a growing area of Houston. Craig Durrett said his store really doesn't have a specific market niche, but about 60 percent of the store's sales come from repeat customers or referrals.
"We're really pumped up about the next few years. Things are changing. It's exciting. You've got to change with the times," he said.