J.D. Byrider Store Network Stands At 161 With 77 More Prospects In The Pipeline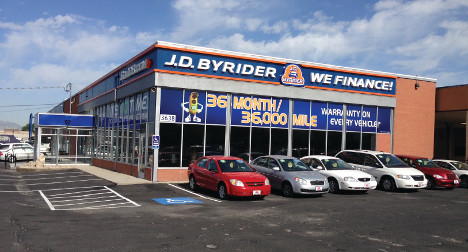 CARMEL, Ind. -
Pick a positive area for growth, and J.D. Byrider vice president of franchise sales Jack Humbert will tell you it's on an upward trajectory.
Late this summer, the company added three executives to its franchising team at its corporate headquarters. J.D. Byrider currently has 161 dealerships in 33 states, having just broadened its footprint into Utah and Idaho and soon will be venturing into New Jersey and New Hampshire for the first time, too.
Humbert indicated that the company has a pipeline of 77 prospects who have agreed to open a franchise location in the future. And that number continues to grow.
"The last few years that I've been involved with J.D. Byrider have been really filled with growth and tons of movements," Humbert told BHPH Report.
"The great thing about J.D. Byrider is we have a vertically integrated model, which means we control every piece from acquiring the inventory, reconditioning, to the sales and marketing to the underwriting to the collecting and asset recovery that might be needed on the portfolio," he continued.
"With a vertically integrated model, we can have success in any economic time. During the down economic times, the positive economic times, our model succeeds because we have total control," Humbert went on to say.
Newest Personnel
Three more executives will be charged with helping to keep J.D. Byrider in control.
Just before the leaves started to turn, Kirby Durham was hired as director of franchise financing; Maureen Glunt joined the team as director of franchise sales; and Jennifer Kier was named a senior franchise analyst.
"J.D. Byrider's franchising growth demanded that we allocate additional resources to help our franchisees continue to source exceptional funding opportunities for their businesses, as well as provide the horsepower to provide them best-in-class financial analytics and support," said Tom Welter, vice president of franchising.
"Kirby, Maureen and Jennifer are passionate about serving our franchise community and ensuring J.D. Byrider continues to be one of the highest returns on investment in any franchise offering," Welter continued.
Durham has been assigned to work with franchise owners to provide them with the working capital they need to start and grow their business.
Prior to joining J.D. Byrider, Durham was a high-performing commercial loan officer for Huntington Bank. His extensive experience as a commercial banker allows him to educate financial institutions on the success and growth of Byrider Franchising.
Before coming on with J.D. Byrider, Glunt was a successful personal and business banker at PNC Bank for more than five years.
In her new role, Glunt will use her business development experience to ensure potential franchisees are equipped with the knowledge and expertise needed to start their business with confidence.
Kier started her career as a cost accountant in the automotive manufacturing industry, and in July 1997, she joined J.D. Byrider as a franchise accounting consultant.
During her more than 17 years with J.D. Byrider, Kier has grown from providing basic accounting consultation and training to a business and financial analyst. Additionally, Kier provides accounting training for all of J.D. Byrider's new stores.
This new personnel will be needed because Humbert pointed out that J.D. Byrider is bringing in new owners into the system at a record pace as well as our existing owners are continuing to grow their organizations.
"That's what makes it fun and exciting that we're bringing the new owners into the system from different markets, both from the new-car market that wants to diversify their organizations as well as the entrepreneur or investment banker that wants a great return on investment," Humbert said. "So they're turning to a 25 year experienced franchise to grow with to get that ROI (return on investment)."
Current Business Landscape
Humbert indicated that J.D. Byrider's sales performance has been impacted by special finance companies working with deep subprime buyers who typically would need to work with a BHPH dealer. While there were some indication finance companies were going to back off from subprime originations, CNW Research highlighted that subprime approvals jumped 31 percent year-over-year in September.
"Any pullback is due to pressure from regulators and the press. I think it's still too early to see if the pullback is going to remain or if it's going to be temporary," Humbert said.
"As long as interest rates remain low, the competition is going to remain. That's how we're looking at it," he continued.
Nevertheless, Humbert highlighted that J.D. Byrider stores are seeing a minimal down-payment drop, a key point in the origination process.
"In some cases, it's more difficult to get cash down being that the market is looser with financing, and the customer has expanded options," Humbert said.
"We don't draw a hard line on what we need to make a sale. That's beneficial both to J.D. Byrider and to the customer," he added.
Humbert mentioned that J.D. Byrider is already gearing up for tax season as some customers are coming into stores with pay stubs to get estimates on what their refunds might be. As what happens in some other BHPH operations that use the strategy, a J.D. Byrider will structure a deal based on that estimate, deliver the vehicle, process the buyers' income tax filing early next year and take an agreed upon portion of the refund.
"It's been very successful program for us for years, and we expect more of the same. The tax program is great. It helps our dealers but more importantly it helps our customers," Humbert said.