NIADA acquires Leedom & Associates assets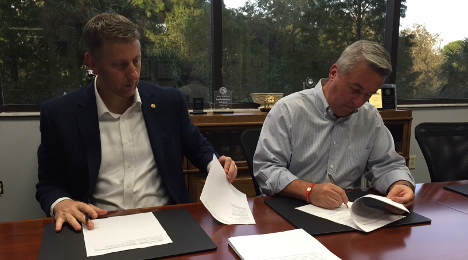 ARLINGTON, Texas -
The National Independent Automobile Dealers Association became an even bigger organization on Friday as NIADA announced it has acquired the assets and operations of Sarasota, Fla.-based Leedom & Associates.
Officials highlighted the transaction — which was concluded Monday — transfers ownership of all Leedom 20 Groups, seminars, workshops, boot camps and consulting, as well as the Dealer Business Journal and the BHPH World Convention, to NIADA, effective immediately.
NIADA also announced that the association hired automotive industry veteran and longtime Leedom employee Chuck Bonanno as national director of 20 Group operations to run the new division and lead NIADA's efforts to grow and expand its offerings.
"NIADA is excited to build on an award-winning 20 Group platform that has been 20 years in the making," NIADA chief executive officer Steve Jordan said, "and we're excited about the opportunity to add an array of other training and educational services to meet the needs of the independent auto dealer.
"Our closing this week culminates a year's worth of due diligence and analysis by NIADA leadership that led to a unanimous decision by the NIADA executive committee to green-light the purchase," Jordan continued.
"I have to give a lot of credit to the committee for their forward thinking and leadership to continue expanding NIADA to better serve our members and the industry by this acquisition," he went on to say.
NIADA president Frank Fuzy also shared his perspective on the moves.
"The more we got into the research and projections, the more we realized how these services align perfectly with NIADA's mission to provide best-in-class dealer training and education and how it could expand NIADA's annual convention," Fuzy said.
"Acquiring the BHPH World Convention fits perfectly into NIADA's desire to be the 'big tent' convention for all independent auto dealers. This will allow NIADA's annual convention to be a one-stop shop for buy-here, pay-here, retail, subprime, Internet and all manner of independents," Fuzy continued.
Leedom & Associates CEO and president Chris Leedom, who founded the company in 1995 and served as its first 20 Group moderator, said he is confident NIADA will take the operation to another level.
"It has been a most incredible and humbling journey to serve as the founder and first moderator of the independent dealer 20 Group in 1995 and enjoy the incredible success we have been so fortunate to achieve," Leedom said.
"I have absolute confidence and certainty there is no better home for the 20 Group program and the related products and services than with NIADA," he continued.
"With NIADA's nearly 16,000 members in all 50 states and, most important, the commitment emanating from Steve Jordan and the executive committee, there is no doubt the 20 Group program will soar to new heights under the very capable and respected hands of Chuck Bonanno," Leedom went on to say.
"Having said that, I am deeply committed to ensuring the legacy of this most respected 20 Group program in the industry continues and thrives under the NIADA banner," he added.
Bonanno, who became Leedom & Associates' first employee in 2001 and served as a 20 Group moderator in the BHPH and automotive finance space for 13 years, said he is thrilled to be involved in the next chapter of the program's growth.
"I am honored to be given the opportunity to manage and grow this world-class program Chris worked so hard to build over the last 20 years," Bonanno said.
"I am excited to now be able to offer 20 Groups to all independent dealers regardless of their business model. I am firm believer that 20 Group participation affords dealers the best training available, as the group members serve as a board of directors whose goal is to ensure success of all members," he went on to say.
NABD president Ken Shilson added: "NABD congratulates NIADA on the acquisition of the assets and operations of Leedom and Associates. Our organization remains the industry's largest special interest group dedicated exclusively to the buy-here, pay-here industry with more than 12,000 active members. We will continue to work closely with NIADA and other associations for the betterment of the self-finance used-car industry.
"Our goal is to provide the highest quality specialized training and support to BHPH operators, Membership in NABD is obtained by attending one of our training events and our members pay no dues. Information about upcoming training and other important industry information can be found at our website www.bhphinfo.com," he said.
For more information about the deal above, contact Jordan with NIADA at (817) 640-3838 or Leedom at (941) 371-7999.