Policygenius survey: 17% of drivers have dropped their car insurance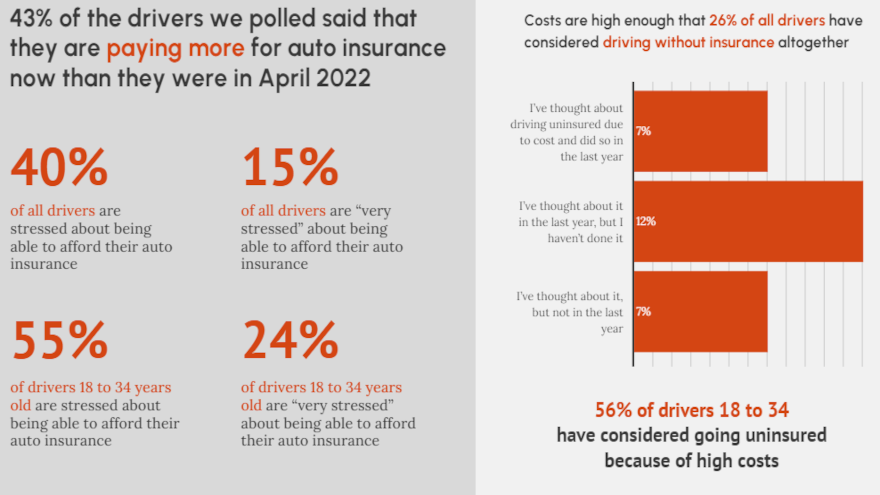 A situation all too familiar to buy-here, pay-here dealerships — their customers dropping their car insurance — appears to be intensifying.
With inflation levels at 5% stretching family budgets, findings from the Policygenius Car Insurance Affordability Survey showed 40% of insured drivers say they're stressed about being able to afford car insurance, a requirement for drivers in most states, adding to the broader anxiety Americans feel around the pressures on their wallets.
Policygenius said these situations appears to be especially true with many millennials and Gen Z — more than half (55%) of drivers age 18 to 34 are stressed about being able to afford auto insurance and 24% say that they're "very stressed."
Other findings from the survey include:
—45% of insured drivers ages 18 to 34 say they've thought about driving without car insurance because of the cost in the past year, and 17% have actually done it.
—Younger drivers (18 to 34) were the most likely to have switched or considered switching car insurance companies because of high costs.
—36% said they had thought about changing car insurance companies because of high rates in the past year but haven't switched yet.
—25% said they switched companies in the last 12 months because their car insurance was too expensive.
"Our survey found that people are changing their behaviors, and sometimes even going so far as to take a major financial risk by driving completely uninsured. Car insurance is getting expensive for most people," said Andrew Hurst, licensed property and casualty insurance expert at Policygenius.
Policygenius commissioned YouGov to poll 2,780 American adults (aged 18 and), 2,134 of whom confirmed having car insurance.
The survey was carried out online from April 12 through April 14.
You can see more data and the full methodology in the Policygenius Car Insurance Affordability Survey report available via this website.