SecureClose Shares 10 Habits of Compliant Dealers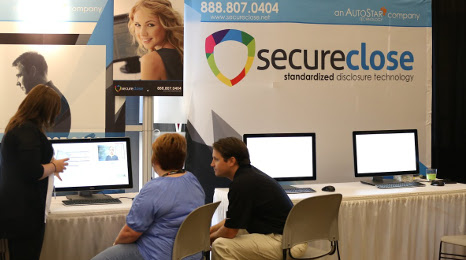 GRAPEVINE, Texas -
Compliance technology provider SecureClose wrapped up AutoStar Solutions' seventh annual Innovate conference on Wednesday with a list of 10 recommendations for how to significantly decrease risk from lawsuits and government actions pertaining to the F&I closing process.
Brent Chavez and Joe Perkins of SecureClose first cited the latest move by the Consumer Financial Protection Bureau to expand its supervision to large non-bank auto finance companies. Chavez said dealers and finance companies have experienced more expansion of government regulation in the last several years than at any other time in his career.
As a result, Chavez urged dealers to:
1. Record your sale closings.
2. Script your disclosures.
3. Document your training.
4. Establish clear processes and procedures.
5. Get an outside compliance review.
6. Appoint a compliance manager.
7. Develop a customer complaint procedure and log.
8. Manage your vendor compliance.
9. Automate processes for improved accuracy and consistency.
10. Implement a proactive review process to catch violations before it's too late.
"As a car dealer myself for more than 20 years, I understand the pressures dealers face on a daily basis," SecureClose founder Ace Christian said. "To be quite honest, the last five years have been the toughest for me due to changes in the market, increased competition, hard-to-find inventory and the biggest one — government regulation."
Christian said the F&I office is one of the most heavily regulated areas of a dealership. With so many constantly changing checklists and disclosures — combined with the element of human error and fatigue at the end of a long day — Christian acknowledged violations are bound to happen.
Christian said dealers need a way to automate the closing process to ensure consistency, along with a reliable method to record closings and store them for easy access.
"Video recordings by themselves are not a complete solution," he said. "I can't tell you how many times I've seen dealers videotape closings that — when watched back later — clearly show violations. Not to mention the technical difficulties inherent with quality video coverage and storage.
"Training also doesn't fix the fact that your F&I guy is a human being," Christian said. "After a 12-hour day, he's tired. He wants to go home. The customer wants to go home. So maybe he forgets a point or two. What's the big deal? Well, when that forgetfulness comes back to bite you in a year after the customer has sued and that F&I guy no longer works for you, it is a huge deal."
Christian demonstrated for attendees how SecureClose can help dealers ensure every closing is fully compliant by utilizing computer screens that verbally walk customers through each closing document. He explained all information used adheres to the latest national and state-specific regulations. Buyers can pause or rewind as many times as they wish to make sure they understand the contract terms — but no fast-forwarding or skipping any steps.
An electronic signature tablet captures signatures and places them in the appropriate spots in the document. A front-facing camera records audio and video of the entire process, including everything shown and done on the system screen.
Once the presentation is complete and all documents signed, audio and video of the customer plus the recording of the on-screen activity can be combined in a comprehensive ClosingRecord, which is stored on a secure online server for future retrieval. The dealer or customer can view this complete record at any time.
"SecureClose protects the customer and the dealer from being taken advantage of," Christian said. "It's the answer to most of the regulations coming out of Washington, D.C., right now. And it's certainly a vital component of any dealership that wants to stop lawsuits before they start."
Christian has used various versions of SecureClose at his dealership in Arizona for the past year.
"I received several attorney demand letters during that time. I just sent them the ClosingRecord for those deals, and I never heard from them again," Christian said.
Steve Levine is chief legal officer for AutoStar Solutions, which acquired a 50-percent stake in SecureClose earlier this year. Levine is expecting finance companies will champion SecureClose to their dealers.
"It's not just a buy-here, pay-here solution," Levine said. "When retail dealers use this product, finance companies can have confidence their dealers conducted a fully compliant closing. That means no complaints from the consumer six months down the road, after the lender has already acquired the contract."
SecureClose is available nationwide. Levine said the company is following an aggressive installation schedule to make SecureClose available to dealers of all sizes.
Collecting More During Payment Proccess
Elsewhere at the Innovate conference, Susan Perlmutter, chief revenue officer for Sigma Payment Solutions, shared with BHPH dealers several strategies for lowering the costs of payment acceptance.
"Once you combine a collector's hourly pay, overhead and the cost of the credit card payment, you're looking at more than $6 per payment," Perlmutter said. "You can offset that amount by allowing a provider such as Sigma to pass a convenience fee to the consumer.
"The other option is self-service consumer payment channels," she continued. "This empowers your customer to pay with no staff interaction. No human error, no vacation or sick days. You can accept payments 24 hours a day, seven days a week, 365 days a year. Your collectors can then focus their attention on delinquent customers."
Sigma Payment Solutions' automated options include pay-by-text, kiosks and Interactive Voice Response (IVR). Perlmutter pointed out each of these choices can help dealers bring costs down to 55 cents per payment — a savings of about $5.75.
Strategy for Small Dealers
David Brotherton, consultant and 20 Group leader at Leedom & Associates, led a class teaching smaller BHPH dealers and focused on ways they can "level the playing field" against larger competitors. Brotherton offered three tips:
1. Learn as much as you can about the customer. The more you know about your potential buyer, the greater your chance to get them sold. Once they visit your dealership and hear your program details, you have a tremendous advantage over the dealer down the street — so don't waste the opportunity.
2. Measure activity levels before results, at least initially. Activity will ultimately yield results, so pay more attention to follow-ups, phone calls, emails and in-person visits. Get those numbers as high as you can, execute well, and results will follow.
3. Invest in a comprehensive Customer Relationship Management (CRM) system. Whether you sell 10 vehicles or 200 vehicles per month, you must use a CRM to legally and effectively communicate with your customer base. For example, using a fully compliant CRM with a texting feature will protect you from a devastating lawsuit settlement because you didn't strictly adhere to the CAN-SPAM Act.
Full-length video of all the Innovate general sessions will be available soon on AutoStar Solutions' YouTube channel.