Spireon Leverages Campaign into Unique Marketing Pitch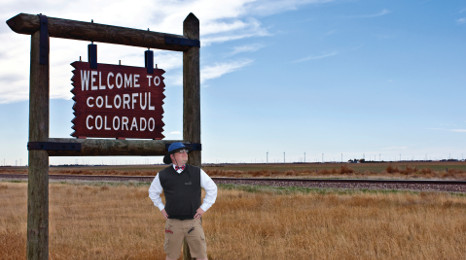 IRVINE, Calif. -
Ron DuBord possesses a unique marketing hook when he pulls into a buy-here, pay-here dealership during his travels as a field sales representative for Spireon, one of the industry's GPS tracking providers. DuBord has been the centerpiece of the "Where's Ron?" campaign, an effort the company is using to highlight the capability of its devices.
Since May, DuBord has had a Spireon CDMA Talon device installed in his traveling work vehicle. When BHPH Report caught up with DuBord this fall, he had just switched to a Chevrolet Impala, but he already put more than 15,000 miles on the vehicle in about 60 days.
"Over the last five months, I've seen the Atlantic Ocean, I've seen the Rockies, the Ozarks and the Appalachians. I've been to Nashville, and Memphis and down into Mississippi, out into the Bad Lands of South Dakota," said DuBord, who has been with Spireon as a sales representative for nearly three years and has 18 years of experience in the automotive business.
"It's really been a broad spectrum of our country as a whole and really showing the capacity of the CDMA unit to function well wherever you may be," he continued.
When DuBord gets some rest at home, it's in Dubuque Iowa, a city near where Iowa, Illinois and Wisconsin come together. Before going on the road for Spireon, he spent 70 to 80 hours a week in the same place as the general manager of a franchised dealership.
"Now I'm pretty much on the road constantly, changing scenery," DuBord said. "I like the variety. The people and the dealers I meet are really the biggest reason I do what I do, and our customers. They're such unique and interesting people."
And what DuBord highlights is how Spireon now offers a 99.9-percent service-level agreement for customers of its automotive collateral management platform designed for organizations in the vehicle finance industry, including automotive finance companies, banks, credit unions and dealerships with in-housing financing.
The company contends one of the most important requirements of any M2M solution is ensuring the highest levels of service availability. Chief executive officer Marc Brungger assured clients of Spireon's four-time award-winning GoldStar GPS and LoanPlus CMS automotive collateral management platforms that they will always have 99.9 percent access to their critical data to track vehicle assets in realtime, on-demand.
"Spireon is extremely proud to offer the highest level of service availability in the industry for the 1.7 million subscribers Spireon currently supports, as well as the capacity to provision to more than a billion subscribers seamlessly," said Brungger, who became Spireon CEO last June.
"Spireon has invested significant resources to engineer our next-generation and award winning Nspire M2M Intelligence Platform from the ground up. And now upgraded with CDMA technology, we are confident the platform will grow with our customers business of today and tomorrow," he continued.
The company highlighted key benefits for the automotive finance community include:
Reliability with 99.9 percent performance guarantee. Spireon's Nspire private cloud infrastructure has multiple levels of redundancy to eliminate any single point of failure.
Scalability. Nspire's NoSQL databases with in-memory storage can provide the ability to increase capacity to meet additional or unexpected demand and eliminate delays in obtaining real-time information and reports, without the need for re-architecting.
Security. Spireon's network is comprised of multiple Tier 3 and Tier 4 data centers strategically located nationwide, each top-tier data center adhering to stringent, industry-best practices for security controls and protocols.
"We understand the importance of delivering a reliable service that automotive dealers and lenders can count on when managing their collateral," said David Meyer, executive vice President of sales and service of Spireon's Automotive Solutions Group.
"We surveyed our customers in great depth to truly understand their needs and requirements from their vendor partner," Meyer continued. "The performance guarantee is our pledge to our customers that they will stay connected to Spireon's Automotive Collateral Management Platform and vehicles anytime, anyplace, including in remote and rural areas, 99.9 percent of the time."
Customers who sign up for Spireon's Performance Guarantee can receive the "peace of mind" that they will have access to their SaaS telematics services on a 24 hours a day, seven days a week at a rate of 99.9 percent.
In the meantime, Spireon has used the "Where's Ron?" campaign to emphasize what its devices can do. DuBord explained how the campaign gives the entire company sales team a different way to approach a sales call or visit.
"It's been interesting to watch the buildup and the marketing materials. It showed growth from a different side than we usually see," DuBord said.
"There's always that question will it come to fruition. It's given us a great reliable tool. You can log on any time, anywhere to take a look at not only where I am today, but you can also take a look at history. It will show no matter if I'm in the Midwest, the Southeast or the West, the device works," he continued.
"We've taken it to where previous devices didn't work. We've shown the one device can work across the whole country where there was times before there might have been some questions about coverage with an individual device. This has shown that a singular device can work anywhere, giving you a universal solution," he went on to say.
Earlier this year, Spireon highlighted that its automotive solutions group reached $102 million in revenue for 2013 and now is actively deployed in 1.5 million vehicles within the automotive finance industry, including a wide array of BHPH dealers.
Spireon also announced that it has deployed more than 800,000 units of its Talon GPS tracking device since its introduction a little more than a year ago with record-breaking units shipped to begin 2014.
The company is out to improve those numbers because of its product and marketing efforts such as campaigns featuring, "Where's Ron?"
"As a salesman, it's real easy for me to tell a customer that something works," DuBord said. "When I can pull up to show the car sitting on their lot, show the car coming down the highway, show the customer where I've been, that really reinforces it. That's not something I can magically make up.
"It really demonstrates that the device really works. It eliminates where the salesman can tell a customer just about anything. It really creates proof of the direction that we're going and how the device works," he went on to say.
For more information, visit www.spireon.com/performance-guarantee or GoldStarGPS.com/trackron.