Ally tops J.D. Power dealer financing satisfaction charts in subprime for second straight year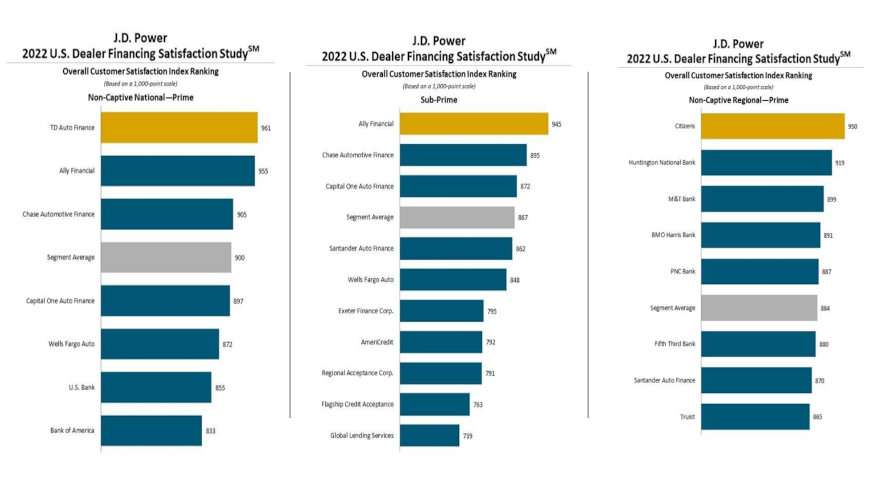 Ally Financial topped the ranking among subprime auto finance companies for the second consecutive year, according to the J.D. Power 2022 U.S. Dealer Financing Satisfaction Study, which was released on Thursday.
Ally Financial ranked highest in overall dealer satisfaction among finance companies that participate in the subprime market with a score of 945 on a 1,000-point scale. Chase Automotive Finance placed second at 895, and Capital One Auto Finance came in third at 872.
J.D. Power highlighted that Ally Financial also ranked highest in overall dealer satisfaction in the leasing space, compiling a score of 942. That performance was followed by Subaru Motors Finance (940) and Ford Credit (906).
In the captive mass market segment, Subaru Motors Finance took first place in overall dealer satisfaction with a score of 934, followed by Honda Financial Services (899) and Ford Credit (888).
Among non-captive national finance companies specializing in prime paper, J.D. Power reported that TD Auto Finance ranked highest in overall dealer satisfaction for a second consecutive year, with a score of 961. Ally Financial placed second at 955 with Chase Automotive Finance coming in third at 905.
And among non-captive regional finance companies in the prime segment, J.D. Power pointed out that the same company led the way for the second straight year, as Citizens registered the highest score for dealer satisfaction at 950. Huntington National Bank landed in second at 919 with M&T Bank placing third at 899.
Looking how those auto finance providers generated those performances, J.D. Power explained that company sales representatives are facing a challenging marketplace as a combination of inflation, rising interest rates and persistently low supply of new vehicles have made it harder than ever to win new business.
In the full report that available to J.D. Power clients, the company identified five key sales rep behaviors that can mean the difference between winning over dealers with above-and-beyond service or disappearing into the background.
"Auto lender sales reps that exceed dealer expectations in areas such as responsiveness and expertise with lending programs generate dealer satisfaction scores that are as much as 190 points higher — on a 1,000-point scale — than those who just meet or miss dealer expectations," J.D. Power director of automotive finance intelligence Patrick Roosenberg said in a news release. "Despite this huge competitive advantage, only 44% of sales reps manage to exceed dealer expectations."
Additionally, Roosenberg noted that banks significantly improved year-over-year and outperformed captives in overall dealer satisfaction.
"Banks have made great strides by focusing on improving dealer satisfaction which leads to greater dealer intent to send more business," he said.