CarGurus unveils pre-qualify program through Capital One, Westlake & GLS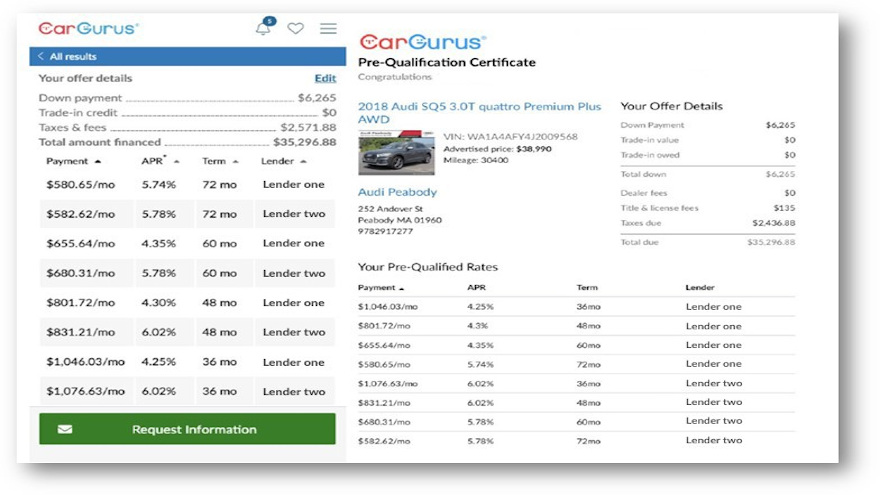 CAMBRIDGE, Mass. -
The next development in the working relationship involving CarGurus, Capital One, Westlake Financial and Global Lending Services (GLS) surfaced on Friday.
CarGurus announced a new feature that can enable shoppers to pre-qualify for financing as they search on CarGurus for their next vehicle; a program dubbed Finance in Advance. Pre-qualification offers are provided through CarGurus' listing dealers that book paper through Capital One, Westlake Financial and Global Lending Services.
CarGurus forged a relationship with Capital One in May 2019 and then with Westlake later that year. CarGurus welcomed GLS into its portfolio of integrated financing providers in August.
Site leaders highlighted the service is the latest in CarGurus' growing suite of digital retail products engineered to help consumers and dealers by bringing ease and transparency to the vehicle-shopping process.
"Financing is a critical, yet often forgotten about, part of purchasing a car. As the pioneers of trust and transparency in automotive retail, we believe that providing shoppers with information about financing rates will help guide better purchase decisions," CarGurus vice president of consumer products Josh Berg said in a news release.
"Shoppers that use CarGurus' pre-qualification tool will know the real costs of their desired vehicle and can go to the dealer ready to complete their financing. That results in saved time for both consumers and dealers," Berg continued.
According to the CarGurus 2020 Buyer Journey report, 61% of consumers that buy at a dealership finance their purchase, and more than half (53%) do so through the dealership where they buy.
CarGurus explained Finance in Advance is designed to an easy-to-use feature for eligible shoppers to obtain pre-qualification for vehicle financing. Shoppers can go to https://www.cargurus.com/Cars/finance to pre-qualify for free and with no impact on their credit score.
Participating finance companies include Capital One, Westlake Financial and Global Lending Services, which in combination provide almost 90% coverage of all dealership listings on the CarGurus site.
CarGurus indicated the majority of shoppers are notified in a matter of minutes when they are pre-qualified and their personalized, pre-qualified offers are automatically applied to their vehicle search on CarGurus.
"This enables shoppers to filter their search results to vehicles where they are eligible for financing and ultimately compare real financing rates across those eligible vehicles," site officials said.
Additionally, CarGurus mentioned shoppers also can customize the vehicle purchase terms like their down payment, estimate the value of their trade-in vehicle and apply that value to their deal.
Once a shopper has selected a vehicle and created a customized offer, they can print or email to themselves a certificate with their rates. Then, the shopper brings their certificate into the dealership where they complete the credit application and finalize the financing terms for that vehicle with the dealership.