DriveItAway launches PHEV subscription to ownership program with Chapman Auto Group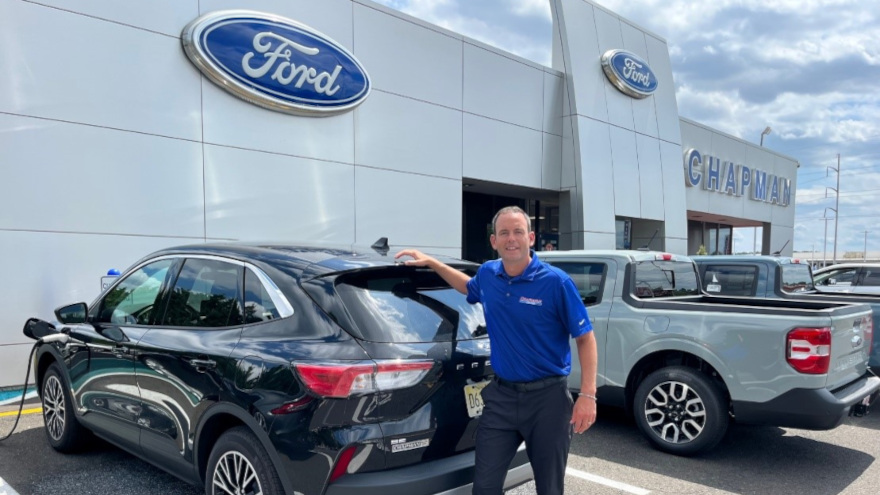 DriveItAway Holdings made another advancement on Friday related to its mission "to make driving and owning an EV truly affordable for all."
The provider of subscription-to-purchase technology announced that it recently launched its electric vehicle program with the Ford Escape Plug-In Hybrid, working with a new dealer partner, the Chapman Auto Group.
Focused on enabling all who want the benefits of immediately driving and owning an electric vehicle, DriveItAway is now rolling out the Ford Escape Plug-In Hybrid (PHEV) in conjunction with Chapman stores, with eight locations in the greater Philadelphia/New Jersey/Delaware region.
"This is a very special day for us, as not only are we expanding our program to plug-in hybrid vehicles with the new Ford Escape, we are also welcoming the esteemed Chapman Auto Group into our dealer focused program and platform, all in our mission to make EVs and PHEVs accessible for everyone today," DriveItAway founder and chief executive officer John Possumato said in a news release.
"We are privileged to expand our dealer led subscription to ownership program with the Escape PHEV with Chapman Auto Group to make driving and owning an EV or PHEV truly affordable for all," Possumato continued.
The Chapman Auto Group has been serving the greater Philadelphia community for more than half a century with eight locations featuring Ford, Chevrolet, Chrysler, Jeep, Nissan, Lincoln and Mazda franchises.
Chapman director of business development Keane Storey explained through the news release why the group chose to align with DriveItAway.
"One of the main aspects that sets the Chapman Auto Stores apart from the competition is our steadfast commitment to our employees, customers, and local communities," Storey said. "We see DriveItAway's technology and specifically the "EVs for Everyone" program as a way to enable more mainstream people to try out and buy EVs and PHEVs by spreading out the down payment while driving over an extended period of time before making the decision to purchase.
"In addition to the "EV for Everyone" program, we are looking at the DriveItAway platform to help us and our customers navigate the current landscape of vehicle shortages through short-term vehicle subscriptions while customers wait for their ordered vehicles. We think the flexibility of the technology allows dealerships a number of options with current and future inventory levels," Storey went on to say.
DriveItAway's EV subscription program, launched in the greater Philadelphia area, has now expanded to Connecticut and Michigan. The Ford Escape PHEV joins the General Motors Bolt/Bolt EUV and the Polestar 2 in the DriveItAway fleet, which will soon be available in many more markets throughout the United States.
DriveItAway explained its unique 'EVs for Everyone' program is the perfect "vehicle" to reduce the barriers to EV adoption for all drivers.
Its program is "perfect for people who are interested in an EV but are put off by the higher initial cost as compared to a gas vehicle or are concerned about suitability and range anxiety," according to DriveItAway.