From the editor: NARS highlights intriguing thoughts from finance companies & repo agents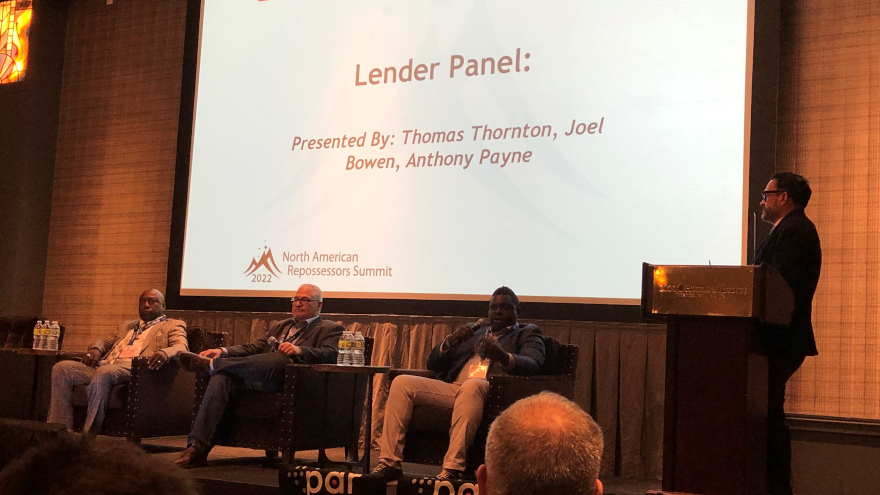 DENVER -
Tip of the conference cap to the American Recovery Association and the North American Repossessors Summit planning committee. They scheduled a pair of intriguing panel discussions to begin the 2022 edition of NARS, which unfolded for the first time at the foot of the Rocky Mountains.
The opening panel on Tuesday afternoon featured a diverse trio of executives from the finance community; representatives from a captive, a credit union and a bank. Leading the conversation was newly bearded Joel Kennedy, who served in similar capacities during Used Car Week as well as when he was president of the National Automotive Finance Association.
The NARS gathering of close to 500 repossession agents, collections and recovery managers at other finance companies as well as leaders from an array of industry service providers listened intently to comments made by Joel Bowen, who has served as the loan resolution manager at Caltech Employees Federal Credit Union since August 2002.
While the latest data shows stability in payments, delinquencies and defaults, Bowen shared that he asked his supervisors and colleagues to increase loss reserves significantly based on the expectation that the credit union's portfolio could sustain some turbulence during the next nine to 12 months.
"It's better to have more than enough in reserves," Bowen said.
And speaking of data, looking for trends is what Anthony Payne of Southeast Toyota Finance is doing. Payne joined the captive in 1998, serving currently as collateral return manager, so he is responsible for repossession activities as well as lease-end servicing and vehicle returns.
Payne acknowledged that trying to find sources to be an accurate predictor of what might happen with delinquencies in auto finance has been challenging during the past two years, especially in light of accommodations finance companies of all stripes have given to their customers during the pandemic. So, Payne said he's watching the credit card market as a barometer of current consumer health.
Tom Thornton, who is senior vice president within the customer asset management group for M&T Bank, mentioned that the institution no longer has pandemic-connected payment accommodations in place for its customers. However, Thornton pointed out that the bank is not going to ignore the plight of its customers, especially if they've hit a rough patch. (And who isn't feeling the impact of $5 per gallon gas?)
"We're still trying to make sure we have a good customer experience. We try to do the right thing," said Thornton, who also appeared on stage during the Repo Con portion of 2021 Used Car Week.
Bowen, Payne and Thornton all are expecting repossession volume to rise in the coming months since defaults still remain well below pre-pandemic readings and are on a trajectory to normalize.
"We're working closely with our partners, repo agents and auto auctions, to make sure we're ready," Thornton said.
The next panel featured three active repossession agents, including current ARA president Dave Kennedy.
Kennedy focused much of his comments on the successes of the Repo Alliance, the grassroots funded lobbying organization based in Washington, D.C. He rattled off many successes for the endeavor, which he said has triggered several "we didn't even think of that" comments from both federal lawmakers and regulators.
Starr Sawalqah runs Alpha Recovery in Phoenix and offered several recommendations to her fellow repossession agents. Sawalqah insisted that agents "shouldn't be afraid to be vulnerable" when describing their escalating costs to finance companies. But she emphasized that agents need to back up their claims with plenty of data to show just how much it costs to skip-trace a customer and repossess a vehicle.
James McNeil is the chief executive officer of Day Break Metro, which provides repossession, locksmithing and transportation services from seven lot locations in California. McNeil might have made the most poignant statement of the day.
"We're in an industry that's going to be surprised by how much we're going to be overwhelmed with assignments," McNeil said, suggesting that fellow agents get their trucks and other physical resources as well as their workforces as strong as their finances will allow.
McNeil agreed with the timeline Bowen made during the previous panel discussion about the potential rise of repossessions.
"The industry is shrinking," Bowen said. "Are we going to have enough agents to handle the volume?"
For ARA members in the room at the Omni Interlocken Hotel in Denver, they should take comfort in what Bowen said next.
"As long as you're an ARA member, you're someone to do business with in my book," he said.
Nick Zulovich is senior editor with Cherokee Media Group and can be reached at nzulovich@cherokeemediagroup.com.