From the editor: Recapping poignant moment of AIS 2021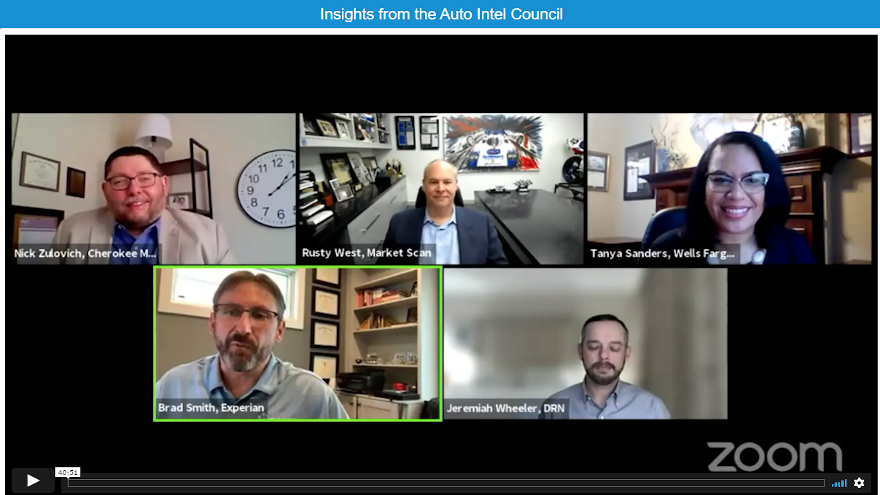 CARY, N.C. -
One of the poignant moments during this week's Auto Intel Summit happened on Tuesday during a panel discussion featuring representatives from the Auto Intel Council, a private, membership-based organization that includes leading intelligence companies in the automotive space.
Executives from DRN, Experian, Market Scan and Wells Fargo recapped their journeys through the pandemic and how technological developments have accelerated in the past year.
What made the climax of the discussion so powerful delved into what each panelist highlighted as what they most anticipated in a post-pandemic environment with infections declining, more people vaccinated and businesses getting back in motion similar to what it was before last March.
DRN's Jeremiah Wheeler began this series of perspectives by sharing his anticipation for in-person industry events. While the Auto Intel Summit had to be an all-digital event again this year, it's likely to be back in person next year here in North Carolina. And there are plenty of other industry events set to be orchestrated in person later this summer and fall, including:
—NIADA Convention and Expo beginning on Aug. 23 in San Antonio
—Non-Prime Auto Financing Conference hosted by the National Automotive Finance Association beginning on Aug. 31 in Plano, Texas
—North American Repossessors Summit organized by the American Recovery Association (ARA) starting on Oct. 7 in Irving, Texas
—Used Car Week orchestrated by the Cherokee Media Group starting on Nov. 15 in Las Vegas
As industry leaders know, going to conferences isn't just about expert presentations. The value that derives from interactions in exhibit halls and other hotel venues is priceless.
"I think a lot of collaboration is lost in not being able to collaborate personally, face-to-face," Wheeler said.
Tanya Sanders of Wells Fargo again showed her forward-thinking prowess; part of which made her last year's Auto Finance Executive of the Year, an award presented by Black Book.
"I have to be completely honest here, as a mother of three at home with virtual school for well over a year now, I'm looking forward to having all three back in school and getting back into in an environment with grownups around me," Sanders said.
The well-being of Sanders, her children and literally millions of other families are likely to be improved with in-person education getting back on track.
According to a news release distributed in March from UNICEF, the world's leading humanitarian organization focused on children, at least 1 in 7 children — or 332 million globally — has lived under required or recommended nationwide stay-at-home policies for at least nine months since the start of the COVID-19 pandemic, putting their mental health and well-being at risk.
Next, Brad Smith of Experian touched on how much he and his fellow Michigan residents are eager for the combination of warmer weather and pandemic abatement to enjoy the outdoors for lake boating and concerts that often draw scores of people together for shared musical exuberance.
And as Wheeler mentioned, too, Smith noted how critical interacting again with coworkers and industry colleagues will be without the need for digital platforms such as Zoom, Slack or Microsoft Teams
"We're a social species. Unfortunately, this pandemic caused us to separate, social distance and not be close to one another. Looking forward to shaking hands and giving hugs," Smith said.
"And I agree with Jeremiah. I spent my entire career traveling, over 100 nights a year for many years. One thing I've noticed that I've missed the most during the pandemic is standing in a room with a bunch of people collaborating, being able to be with a whiteboard and drawing out ideas," he continued. "A lot of the good products I've been a part of that have come to market and been successful have started in those environments. That's been the thing I've missed the most, getting in the room with a bunch of smart people and hashing out ideas.
"I think what we're going to see when we get back to work is a slew of new ideas where people have a bunch of pent-up energy and creativity. And then we're going to see a bunch of new ideas coming to market once people are able to start collaborating again. That's going to be great for every industry, not just automotive," Smith went on to say.
Finally, Market Scan's Rusty West genuinely expressed how important it will be "getting my family back in my house." As he peered over his shoulder, West nodded toward empty offices and workspaces that under normal circumstances are bustling with activity.
"We're not a big company. We have about 80 people," West said. "Every month, we do a state of the union, and the last 13 or 14 of them have been Zoom meetings. But we would typically have everybody here, talk about what we've done, what's going on next month. We'd have it catered with pizza or other foods and we would just hang out, just act like a big dysfunctional family for a day. I miss having them. I'll be glad to have my family back."
Family, friends and colleagues. Getting together, talking and sharing. Those human-behavior ingredients just about summarize it all.
All of here at Cherokee Media Group share the same sentiments as mentioned by Wheeler, Sanders, Smith and West. Whether it's at one of the previously mentioned industry events or if your travels take you to North Carolina and we have the chance to gather, they're all opportunities we're anticipating for the betterment of automotive and beyond.
Nick Zulovich is senior editor at Cherokee Media Group and can be reached at nzulovich@cherokeemediagroup.com.