Mandatory ELT processing gaining momentum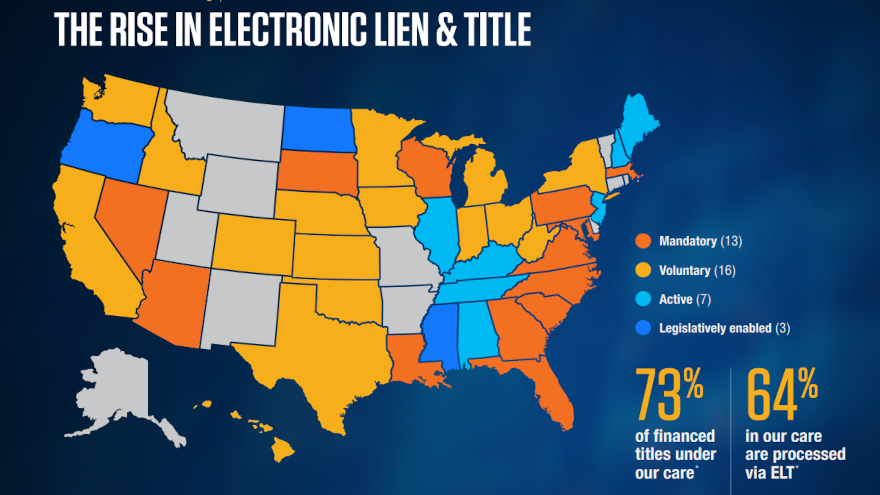 Cox Automotive senior director of government affairs Sarah Hunsicker gave both historical background and forward-looking perspectives about electronic lien and title (ELT) processing, which is now mandatory in 13 states.
Hunsicker recapped in a company podcast with Deshaun Sheppard, a lenders solution expert with Dealertrack, that ELT processing began in 1989 in California. But it took 25 years for another 30 states to make it available at all.
However, Hunsicker said momentum is building at state DMVs to make the technology transition.
"It's really incredible to think that we could see potentially five states go live in the span of one year," she said during the podcast with Sheppard.
According to Dealertrack, the 13 states mandating ELT processing include highly populated locations such as Florida, Georgia, North Carolina and Pennsylvania. Hunsicker explained what it all means for finance companies.
"Mandating is essentially when the state requires all of the lenders doing business in that state to enroll in that state's ELT program in order to receive a title with a lien," she said. "Or in other words, the only method for processing titles in that state is ELT. And so in order for the lender to perfect their lien, they would need to be enrolled in the ELT program. And states are really taking this approach because they want to maximize the benefits of ELT processing over paper title processing.
And with states such New Jersey, Kentucky, New Hampshire, Tennessee and Alabama ready to make moves toward potentially mandates, Hunsicker described what might be ahead for finance companies.
"Paper titles with liens are quickly becoming obsolete and ELT processing is now the predominant method for processing titles across the states. And of course, there will be some holdouts. But I hope that within the next five to 10 years, ELT will be the standard for title processing at the state level," she said.
To help finance companies make these transitions, Sheppard reiterated the value proposition offered through Dealertrack's Acclerated Title tool, which is a free upgrade for clients.
Sheppard is offering current and new clients the opportunity to learn more by connecting online.