RoadVantage names new president, sales leader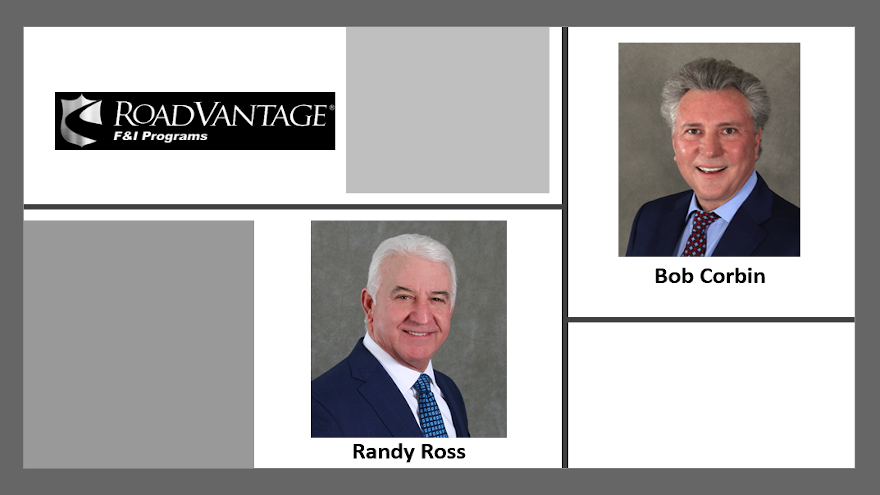 AUSTIN, Texas -
To achieve the flexibility required for what the F&I provider described as its next level of expansion, RoadVantage announced leadership restructuring on Friday with two executives moves.
The first move made by RoadVantage was adding industry veteran Bob Corbin as its new president of sales. Then, RoadVantage said its previous president of sales, Randy Ross, will be promoted to be president of the company.
According to a news release, RoadVantage explained these changes will help the company drive sales to even higher levels after setting records last year. The company indicated its dual goals will be to help agent partners expand their businesses while seeking fresh, new growth opportunities.
"I'm honored to join the RoadVantage team as the company continues to post repeated record sales," Corbin said in the news release about the post he took over on Friday. "I appreciate the trust placed in me by CEO Garret Lacour, and I'm excited to help this company grow even faster than ever before."
Lacour offered this perspective about Corbin joining RoadVantage.
"Bob Corbin is the next logical addition to our efforts," Lacour said. "Bob will be an outstanding leader for our sales team. He has done this repeatedly with incredible success, and we are very excited about what he can do for our company.
"Our 4.8 rating with over 240 Google Reviews and top honors for four years running with Diamond wins in the Dealers' Choice Awards are proof positive that we are the best, and Bob will help us deliver even more value," Lacour continued. "We will continue to prove our value as a premier provider to our agents, dealers, and customers."
Meanwhile, in the sales department, RoadVantage noted that Steve Chandler and Michael Picolo will continue to create sales growth with leadership roles guiding the sales team's RVPs and ADMs.
The company went on to say Ross has done an "outstanding job" for the company as president of sales considering the terrific success RoadVantage has enjoyed during the last couple of years.
Ross described his view as RoadVantage's president among the moves the company has made.
"We appreciate the daily efforts of everyone on our team to be the best in the business. We are impressed with our entire staff's professionalism and proud of the company we've built," he said. "I'm energized by the changes we're making, and I look forward to my new role as president. Our company will be able to offer even greater service to our agent partners."
For more information, visit www.roadvantage.com.