States with highest & lowest cost of vehicle ownership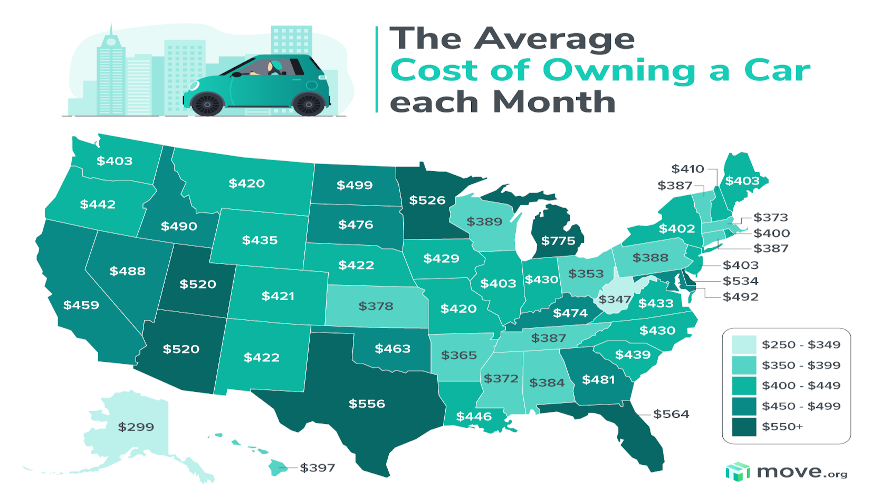 CARY, N.C. -
Dealerships and finance companies often try to educate their customers to understand that the cost of having a vehicle is more than just the monthly payment stipulated on the installment contract.
Analysts at Move.org — a website dedicated to helping consumers find the resources they need to relocate — dissected an array of data to pinpoint the average cost of owning a vehicle, breaking down the metrics by state.
Move.org discovered that Michigan residents have one of the lowest average annual figures for installment payments and maintenance, coming in at $2,005. However, the site determined Michigan residents have the highest overall average for total cost of ownership because of insurance requirements.
Analysts said that individuals in Michigan pay $9,304.28 annually to own a vehicle. That's more than $4,000 above the national average. Of that figure, $5,740 goes toward insurance. The monthly average worked out to be $775.
Meanwhile, looking at just the ledger line for installment payments as well as maintenance, Move.org indicated that Texas vehicle operators have the highest annual costs at $4,145, the only state above the $4,000 threshold in that category of the site's data set. But, Move.org pegged the annual cost for Lone Star State vehicle owners as being third nationally at $6,670.
On the other end of the spectrum, Move.org determined that Alaska vehicle owners have both the lowest annual costs for installment payments, maintenance as well as insurance, coming in all together at $3,586.
The complete data report can be viewed here.