Tom Hudson named first recipient of Jack Tracey Pinnacle Award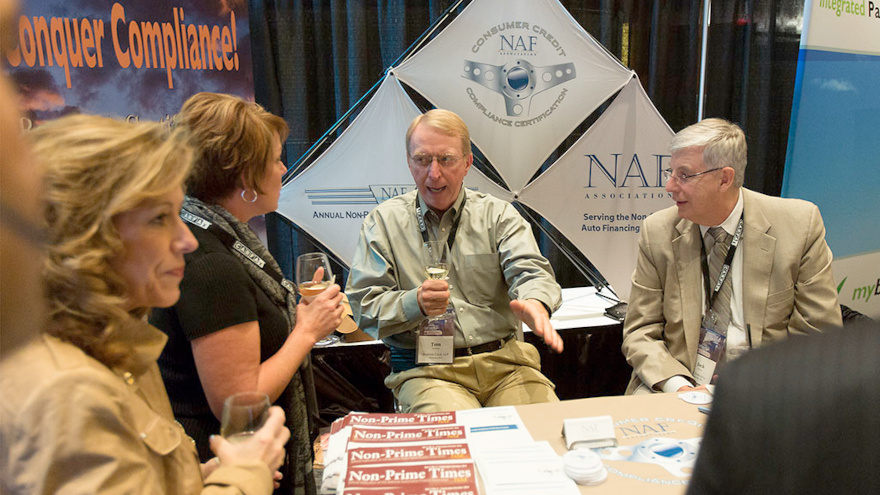 Tom Hudson might not be practicing consumer finance law on a daily basis nowadays, but accolades continue to be given to the founding partner of Hudson Cook.
On Tuesday, the National Automotive Finance Association announced that Hudson has been named the inaugural recipient of the Jack Tracey Pinnacle Award, which recognizes individuals who have made significant contributions to the non-prime auto finance industry.
Named after one of the NAF Association's founders and its first executive director, the late Jack Tracey, officials highlighted this award symbolizes excellence, leadership and dedication to the industry.
The NAF Association said Tracey's enduring legacy as a visionary founder, influential leader and passionate advocate for the non-prime automotive finance industry will forever be cherished and celebrated through the Jack Tracey Pinnacle Award.
Tracey passed away in June 2021 after a brief illness.
The 2023 Jack Tracey Pinnacle Award is sponsored by RepoSystems and is presented to a professional at a member organization who has demonstrated enduring service and exceptional commitment to the non-prime auto finance sector.
Nominees are evaluated based on their substantial record of service to a NAF Association member company, which goes beyond their regular employment duties and has positively impacted the industry as a whole.
The award will be presented to Hudson next month during the 2023 Non-Prime Auto Financing Conference in Plano, Texas.
"On behalf of the NAF Association's board of directors, we are honored to recognize Tom Hudson as the first Jack Tracey Pinnacle Award recipient," current NAF Association executive director Jennifer Martin said in a news release.
"Tom is a positive and powerful force within the association, and the impact of his work and passion extend across the entire industry. This year's award carries extra special sentiment given the special friendship between Tom and Jack, and we couldn't be more delighted with the NAF Association's Award Committee selection," Martin continued.
This accolade isn't the only one Hudson has received from an industry association.
In 2017, the National Independent Automobile Dealers Association added Hudson to its prestigious Ring of Honor, which is NIADA's highest award for non-dealers.
Additionally in 2009, Hudson was the recipient of the American Financial Services Association Distinguished Service Award.
Hudson also has been recognized by The Best Lawyers in America in the practice area of financial services regulation law and was named the Best Lawyers 2015 Baltimore Financial Services Regulation Law "Lawyer of the Year."
In 2009, he was presented with the Senator William Proxmire Lifetime Achievement Award by the American College of Consumer Financial Services Lawyers.
Hudson has been practicing consumer financial services law since 1973, specifically focusing on vehicle sales, financing, and leasing matters. He is a renowned expert in the field and has held notable positions such as CEO of CounselorLibrary.com and senior editor of CARLAW, a monthly subscription service reporting legal developments in the auto sales, finance and lease businesses.
As the longstanding outside general counsel to the NAF Association, the organization said Hudson provided "invaluable" guidance. He also represented numerous auto finance companies, banks, finance companies, and trade associations. He authored several books, including CARLAW and The F&I Legal Desk Book, considered authoritative resources in the industry.
"Tom has consistently demonstrated his commitment to the non-prime auto finance industry throughout his career. He is highly respected for his vast knowledge, dedication, and tireless efforts to educate and guide professionals in the field," the NAF Association said.
"This recognition is a testament to his outstanding contributions and unwavering commitment to the non-prime auto finance industry," the association went on to say.