US Equity Advantage leader among Orlando CEOs of the Year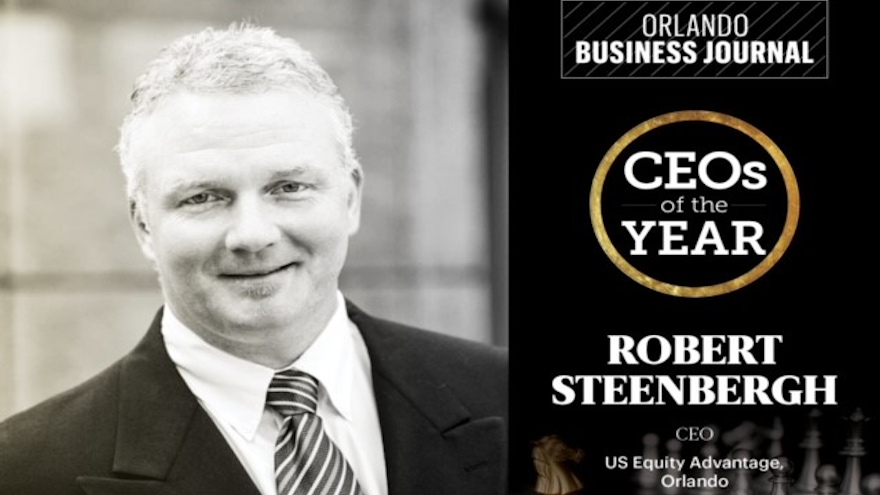 ORLANDO, Fla. -
Robert Steenbergh is being rewarded for executive leadership that began long before the pandemic.
According to a news release, the US Equity Advantage (USEA) founder and chief executive officer has been named one of the 2021 CEOs of the Year by the Orlando Business Journal.
The annual program recognizes the highest-level company executives in central Florida who have had significant achievements in their careers in the past year, have a strong record of innovation, outstanding performance in their work and are actively involved in the community.
Under Steenbergh's leadership, USEA highlighted that it has become an innovator in the automotive finance industry. Since 2003, the automated biweekly and early loan payoff service has enrolled more than 250,000 members and processed more than $5.65 billion in loan payments.
A privately held company with a 12% compounded annual growth rate (CAGR), USEA currently has 68 employees, 29 of whom were hired with in the last 12 months, representing a 75% growth rate in the middle of a pandemic.
Like many CEOs, USEA said COVID-19 was by far Steenbergh's most significant challenge over the past 12 months. His response management included:
• Activating USEA's robust business continuity plan, beginning with shifting all 68 team members to remote-work nearly overnight.
• Confronting the pandemic's increasing cybersecurity risks head-on by directing USEA's chief technology officer to implement more robust security measures and safeguards, including enhancing USEA's cybersecurity policy to incorporate best practices in the areas of employee education and training, securing and monitoring network operations, and continuously auditing, testing and improving its procedures.
• Implementing an empathetic initiative early in the pandemic to help customers weather unexpected economic hardships by randomly selecting customers to receive $250 gift cards.
In the past year, Steenbergh also negotiated a sponsor bank relationship with a federally-chartered and FDIC-insured financial institution whose ACH services allowed dealerships nationwide to offer USEA's AutoPayPlus accelerated payment service.
The following month, USEA said it set a single-month enrollment record for the 17-year-old company.
Steenbergh was nominated for this accolade by USEA director of card services Robin McWatters who has worked alongside Steenbergh for 26 years, calling him a pioneering, passionate and principled CEO, beloved by his staff and humbly worthy of recognition.
"Since 1997, Robert has been a groundbreaker in automotive financing, driving innovations that have made US Equity Advantage the nation's leading provider of biweekly loan processing for the automotive industry," McWatters said in the news release.
"In my book, innovation is his No. 1 quality. From our early days together until now, he is always looking ahead for new and outside-the-box opportunities to improve his companies and their market penetration," McWatters went on to say.